Moorpark Road Closes for Annual Street Fair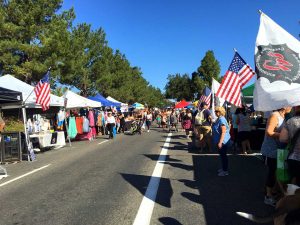 The 2017 Thousand Oaks Street Fair was hosted by the Rotary Club on Oct. 15 from 9 a.m. to 4 p.m. The fair took place on Moorpark Road, which was closed down to traffic between Wilbur Road and Hillcrest Drive in front of Janss Marketplace.
The fair has been an annual tradition on the third Sunday in October since 1991, according to the Rotary Club website.
Darin Arrasmith, Thousand Oaks Rotary Club member who managed one of the two stages with live music explained the event.
"It's a long-standing tradition here in Thousand Oaks. They allow us to shut down the streets and we have a lot of vendors," Arrasmith said. "It's grown to the point where we're often at capacity."
According to the Rotary Club website, the fair attracts an estimated 370 vendors and sold out all the vendor spaces for the 2017 fair.
One of the vendors was Paul Zikmanis of Mystic Bottle Studio Pottery who said he has been coming to the street fair for over 20 years. Zikmanis sells high-fire functional pottery that he makes in his home studio in Susana Knolls, CA.
"Years ago it was a very different show it was all handmade stuff. Now they've got a mix of handmade stuff and commercial stuff, and they also have like organizations with booths," Zikmanis said.
Zikmanis said that his top seller at the fair is always mugs, and that the Rotary Club does a good job of keeping the price of vendor booth spaces reasonable.
"A lot of shows like this raise the price every single year, they just raised it this year but they haven't done it in quite a while," Zikmanis said.
Another vendor at the fair was Lisa Galante who was representing her business, Look Inside Yoga, which sells one-of-a-kind yoga mat bags. Galante said she has been coming to the fair for about five years, and has been making her bags since 2008.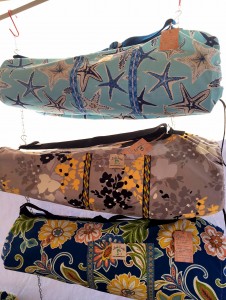 "I like it when people come in and are able to you know, talk to me even if they just admire them for a minute just so I can have some interaction with somebody," Galante said. "I'm just really here to encourage people to continue their practice and of course support my entrepreneurship."
Galante makes her bags out of her Moorpark, CA residence and uses materials that range from vintage fabric to organic cotton and eco-friendly dye. She is also a yoga teacher who teaches privately as well as for businesses such as Crunch Fitness and Soul Body Yoga.
Arrasmith said proceeds from the fair support upwards of 40 local charities such as Casa Pacifica, Manna Food Banks, Battered Women's Shelter and Westminster Free Clinic.
The fair attracts up to 20,000 people according to the Rotary Club website. Despite the predicted wind gusts for Sunday, crowds came to visit the vendors, food trucks and local businesses represented at the fair. 
"A lot of people have you know, started bringing their kids while they're in strollers and those kids are graduated from school now, so it's been around a long time so it's a nice tradition," Arrasmith said.   
According to the Ventura County Star, this was the 26th year of the fair, and as always, it was free.
Nicki Schedler
Reporter