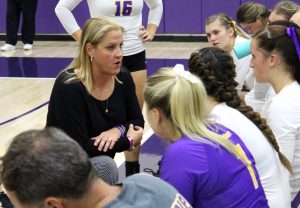 The California Lutheran University women's volleyball team has had great success over the years, due in large part to the leadership of Head Coach Kellee Roesel. Roesel reached the 300 win mark as the Regals defeated Caltech 3-0 Sept. 30.
Roesel is originally from Moorpark, Calif, she was born and raised there. Moorpark is also where she decided to raise her family.
Roesel first started to get into coaching volleyball 20 years ago when she was teaching at Fillmore High School. She coached the junior varsity and varsity volleyball teams at Fillmore.
After this, she moved on to teach at Moorpark High School where she coached soccer and both girls' and boys' volleyball. In 2000, Roesel got a call from the coach at Moorpark College, who said they needed an assistant volleyball coach for the women.
"This is where I really started to fall in love with coaching collegiate volleyball," Roesel said.
Roesel started coaching at Cal Lutheran in 2005, and has been coaching the Regals for 12 years.
"I have so many great memories with these kids, that it is hard to put one above the other," Roesel said.
Some of her different achievements included winning the 2015 national championship, winning SCIAC while going undefeated in 2010 and when her team won the West region for the first time.  Also starting the men's volleyball program at Cal Lutheran  were "huge moments in my life," Roesel said.
Confidence is key to Roesel's success as coach.
"When I asked Kevin [Judd] to be my assistant, we wanted this to be a national powerhouse. I like to win, all the time, in everything I do," Roesel said.
Assistant Coach Kevin Judd added that Roesel's best features as a coach are that she believes in each one of her athletes and pushes them to become better than they ever thought they could be.
"Once the athletes take ownership of the team and hold each other accountable for their efforts they start to see some good results. That message, that drive, that ownership, the expectations, it all started with Kellee and what she was trying to develop here at CLU," Judd said in an email interview.
Cal Lutheran Men's Head Soccer Coach Dan Kuntz also shared his thoughts on Coach Roesel.
"She cares probably more deeply about her athletes than almost any other coach I have met. She is absolutely focused on their success and teaching them how to be successful, showing them how to be by modeling that," Kuntz said.
In addition, Kuntz praised Roesel for building a culture around her performances on and off the court that have allowed her athletes to have the proper mental state for peak performance.
"She expects it, and they understand that, and live up to those expectations," Kuntz said.
Kuntz discussed how he and Roesel work with the same philosophy; they try to lift up and encourage the athletes. Kuntz added that as coaches they respect each other despite the differences in their programs because they see similarities of how students seek support and understand how they can build on performance whether it is through strength and conditioning support or mental capacity.
Roesel said she plans on coaching for as long as she still has a passion for it.
"I don't know if I see myself coaching for 20 more years, but who knows, as long as I have a passion for it and wake up every morning loving it. I think I've got a good, long time left," Roesel said.
David Brown
Reporter