Kingsmen Defeat Whittier At Home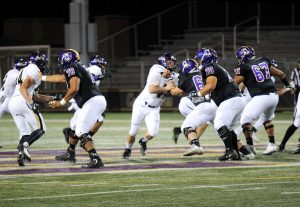 Chris Beeson, senior running back for California Lutheran University, was the talk of the night following the Kingsmen win over Whittier on Saturday. He etched his name in the history books with a five-touchdown performance, which is a school record for most rushing touchdowns in a single game.
"Just have to keep the legs pumping" Beeson said following his performance.
Beeson, along with the five touchdowns, had 18 rushes for 159 yards and added one catch for nine yards.
Whittier came into the game 0-5 and struggling.
"You have to treat every game like a championship game because even though they are poor team they have a lot of young talent who can take over a game," Beeson said.
The Kingsmen controlled the night and didn't give up the lead for the entirety of the game, winning by a score of 60-34.
Senior quarterback Adam Friederichsen continued his solid season going 12 of 25 for 206 yards and a touchdown, but it was another quarterback whose touchdown meant the most.
Junior quarterback Elijah Peters scored his first career touchdown after a 41 yard run down the left sideline.
"I was in a little trouble at the line of scrimmage, but once I bounced it out I was able to put the speed on and burst into the end zone," Peters said.
An emotional Peters came to the sideline and was surrounded by his teammates after the run.
"Last summer I lost my Dad to cancer… He taught me everything I know about football, so now when I score and in everything I do it's always dedicated to him. I know he's watching over me and I know that brought a smile to his face," Peters said.
Peters finished with 52 yards rushing, which was a game high for rushing yards by a quarterback.
"I have a very fond memory of his father… He prayed with me after a game one time and I will never ever forget that. When he made the last little move my thoughts immediately went to his father… that's the first of many," said Head Coach Ben McEnroe.
The Kingsmen will travel to undefeated Chapman Saturday, Oct. 28 in a showdown between the top dogs of the Southern California Intercollegite Athletic Conference. Even with such a lopsided result in their favor on the night, McEnroe says there is still much to work on.
"We didn't do a very good job of finishing our quarterback pressures," McEnroe said.
Quarterback pressure will be one to look for in the upcoming game as they face off against quarterback Ricky Bautista who just a few weeks ago was named to D3 football team of the week (D3football.com).
"It's like looking in the mirror. They are very similar football team. They've got an outstanding running back and they've got a quarterback who can hurt you with his arm and his feet, and they've got one of the best wide receivers in the country," McEnroe said.
The winner of this game could ultimately decide the winner of SCIAC.
"It's a championship game. We'll be up for it; we'll be excited," McEnroe said.
Gabe Naudin
Reporter