Farmers' Market Sells Fresh Produce Near Cal Lutheran Campus
The Thousand Oaks Farmers' Market at The Oaks Shopping Center, which takes place every Thursday, is one of four farmers' markets operated by the Ventura County Certified Farmers' Market Association (VCCFMA).
The VCCFMA is a nonprofit farming cooperative of over 140 farming families, according to the website.
The website states that the VCCFMA was formed in 1985 after local farmers were displaced from selling at the former location of the Ventura 101 Drive-In Theater.
"This cooperative is the marketing umbrella under which all of our participating farmers and vendors can gather together and sell under one licensed operation," said Karen Wetzel Schott, operations manager for the VCCFMA.
The VCCFMA has put on a farmers' market in Thousand Oaks since 1991, according to its website.
Jim Costello, California Lutheran University alumni class of '96, is an owner of the Great Harvest Bread Company in Newbury Park and has been selling at the Thousand Oaks farmers' market for about six or seven years.
Costello said the vendors at the market are "like a big family."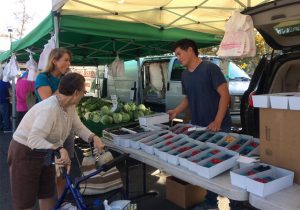 Schott said that the relationships between vendors and customers are close in that "they know your name and what types of fruit you like" and may even put aside popular items if they know you cannot come until the end of the market.
Andy Lee was selling baskets of raspberries, blueberries and blackberries at the market as a representative of Pudwill Berry Farms in Nipomo, CA.
"We've probably been here [at the Thousand Oaks Farmers' Market] for maybe 12 to 15 years," Lee said.
The drought caused the VCCFMA to lose about six to 10 farmers, Schott said.
"If we were to have that drought for maybe another five to seven years, we wouldn't be in business," Lee said.
Schott said that the drought also resulted in smaller yields and smaller fruit, as well as shorter seasons.
"We have no complaints. We're always selling out. We never have enough berries. We're always trying to lease more land," Lee said.
Lee said that Pudwill started leasing 15 more acres in the past year.
In reference to his bakery, Costello said, "I use the farmers' markets to kind of extend my reach."
Costello said that he got into the business because he wanted to become more involved in the community and create a "tangible product."
"It just gives me a good sense of being a part of the community and it's kind of neat because from behind my tables, I see people connecting," Costello said.
The market is closed between Thanksgiving and New Years because the mall needs the parking spaces for employee parking, Schott said.
"This year we are going to try something new and set up a Thousand Oaks mini boutique Farmers' Market in the outdoor Village section inside of the mall," Schott said.
Schott said that the boutique markets will be on Nov. 30, Dec. 7, Dec. 14 and Dec. 21 from noon to 5 p.m. around the fountain in the Outdoor Village.
"For four weeks, 15 of our regular vendors will bring their fresh fruits and vegetables, specialty products and fresh baked goodies inside to take care of our customers during the holidays," Schott said.
Lee said to a customer that all the berries are picked the previous day and "if you get them and you don't think they're the best you ever tried, I'll get you your money back."
"There is no going back to the grocery stores and their produce that can be shipped thousands of miles, fruit that ripens unevenly and products grown in another country," Schott said.
The market is open from 1:30 p.m. to 6 p.m. at the east end parking lot of The Oaks Shopping Center.
Rissa Gross
Reporter