Don't Be Afraid to Discuss Disabilities
Multicultural Programs at California Lutheran University hosted another installment of its "Difficult Dialogues" series Oct. 18, which focused on confidence in talking to people with disabilities.
The informal talk was led by senior Miranda Casanova-MacDonald. She is a 23-year old English major with cerebral palsy, a physical disability that effects all areas of the body. The left side of Casanova-MacDonald's body is significantly stronger than the right. She uses a mobile scooter that brings her a sense of independence and freedom.
"Our Difficult Dialogue series has been in existence for a while," said Jonathan Gonzales, senior coordinator for Multicultural Programs and International Student Services. "This year, we wanted to be very intentional with our dialogue topics and make sure they are pressing and relevant to our student, faculty and staff community. October is Disability Awareness Month, and Miranda and I had been planning for her to talk for a long time, so we took the opportunity."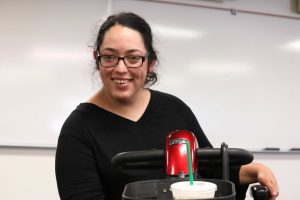 The discussion took place in Nygreen Hall with about 15 students, faculty and staff in attendance. One of the staff members in attendance was Wendy Jimenez, assistant director of Academic Services for Disability Support Services.
"People struggle with different types of disabilities every day," Jimenez said. "People with disabilities are all around us. Anyone of any age, ethnicity or gender can become a part of the community at any point, so it is important for people to be aware of, and to understand the challenges that others face on a daily basis. That's why discussions like these are so relevant."
During the discussion, Casanova-MacDonald spoke about how her childhood and early adolescent life experiences shaped her into the person she is today. Originally from Ojai, California, Casanova-MacDonald grew up with a family that never made her feel self-conscious of her disability; they never made her feel any different than anyone else. She was a very active child, and her family was open-minded when it came to letting her try new things.
"I had always had a mindset that I was not different," Casanova-MacDonald said. "It was not until middle school that I realized that I am different, and that people were starting to take notice. I was up against a lot more than when I was younger."
Starting in middle school, Casanova-MacDonald said she faced years of bullying and mistreatment by peers and classmates. This negatively affected her GPA and self-confidence. When she went to people of authority for guidance they simply told her that she needed to grow a "thicker skin."
During her second year of high school, Casanova-MacDonald took matters into her own hands. She asked one of her teachers if she could make a speech on campus about herself, the disability that she has, and ways to spark discussions with persons with disabilities in general.
"I wanted to give people something positive to talk about," Casanova-MacDonald said. "I believe that if someone doesn't like something, they should change it. If they cannot change it, they should change the way they think about it and approach it."
Casanova-MacDonald said having this speech opened up the floodgates for discussion. The people that bullied her were now the ones asking the most questions. She used these positive results as motivation to use her voice for something good, and has since become a public speaker.
"Being able to speak publicly is very significant to me," Casanova-MacDonald said. "Having the opportunity to reach a lot of people, potentially change and inspire other lives, and just knowing that I am doing something to help others in some ways makes me feel great."
This particular Difficult Dialogue discussion came about in August, as Casanova-MacDonald was very persistent in wishing to be part of the series and having a chance to positively spread her message and story. She believes the discussions create overall awareness, understanding and improvements. 
"We decided that our overall goal for the discussion was for people in attendance, faculty, staff and students to be able to gain confidence in talking with people with disabilities," Gonzales said.   
Multicultural Progams wanted to convey what it means to be a person with a disability in society, Gonzales said. Casanova-MacDonald's transparency and honesty in her story captured the intention of the Difficult Dialogues session, he said.
"Cal Lutheran is one of the most welcoming campuses I have ever been to, for me with a disability myself," Jimenez said. "One thing I would like to see worked on, however, is making this equitable —not just equal —for all."
Krystal Rhaburn
Reporter