Regals Continue Their Winning Ways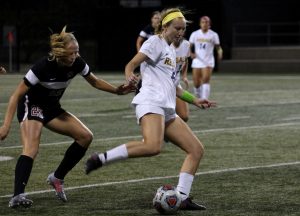 On a cool and damp evening inside William Rolland Stadium, the California Lutheran University women's soccer team defeated the Whittier Poets 2-0. On top of the victory, six different seniors for the Regals, Alex Albaeck, Kali Youngdahl, Jackie Albers, Olivia Leyva, Bri Pinal and Sarah Wardle, were honored during Senior Night.
Youngdahl scored the first goal of the game on a penalty kick in the 13th minute. She also had one assist on Albaeck's goal, which came in the 61st minute and helped to increase the Regals' lead. Albaeck led the Regals with five shots and two on goal.
"We were really composed and we played all out and secured our first place position even more going into the playoffs," Albaeck said.
Pertaining to Albaeck's goal, Youngdahl said, "Maddy [Griess]threw it in, and I was luckily able to head it to Alex [Albaeck] and she just had a great finish in the corner."
The game was played with a great deal of physicality between both sides as four yellow cards were called by referees, in addition to 23 fouls. Cal Lutheran committed 16 of those fouls and seven were comitted by Whittier.
"Last game we kind of fed into that chippiness and aggressiveness, but I really think we kept our cool this game especially because we were at home and it was senior night. We knew what this game meant to us so I think we really composed ourselves and did a good job," Youngdahl said.
"Usually when you play Whittier the game is chippy like that, so we just had to control ourselves, make sure we don't retaliate and foul and be as smart as we can be," said Head Coach Frank Marino.
Things got pretty testy in the second half when the referee stopped play, and had to remove one fan from Whittier's side due to the crowd reacting harshly to a missed hand ball call in the Regals penalty box.
Goalkeeper Alysa Frazier improved her record to 6-0 and made three saves for the Regals, to preserve the shutout.
"We got off to a good start, had some good possession early in the game. We were creating some good chances early on in the game which I thought was key. It was nice to get the well created goal, a good ball from Bri (Pinal) into Alex and created the PK, so it was good," Marino said.
Cal Lutheran had 13 shots with six on goal while Whittier was only able to muster six shots with three on goal. The Regals also had four corner kicks compared to the Poets' three corner kick opportunities.
The Regals sturdy defensive play was aided by the efforts of Leyva, Albers, Katie Weaver, Tessa Dwyer and Zandra Stewart.
Cal Lutheran improved to 15-2-2 (11-1-2 SCIAC) on the season, while Whittier dropped to 10-8 (6-8 SCIAC). The Regals next game will be at home on Thursday, the first game of the SCIAC Postseason Tournament, versus Whittier.
"We just gotta keep playing well, you know. We've played well all year, so I think right now we can play better. I thought we had a bit of a poor stretch to start the second half, so hopefully we can improve upon that for Thursday," Marino said.
David Brown
Reporter