California Lutheran University's Indian Club brought a celebration of Diwali, the Hindu festival of lights, to campus on Friday, Oct. 27. The event featuring music, dance, food and other activities was from 4 p.m. to 7:30 p.m. outside the Student Union.
The event kicked off with an introduction from Chintan Bhatt, a graduate student at Cal Lutheran studying for his MBA who joined the club two weeks ago.
"I feel that every festival is celebrated for one or another reason, which has a huge positive significance within the community, so it's always nice to share that feeling. It's a festive feeling," Bhatt said.
Bhatt and other members of Indian Club who were assisting with the event were wearing traditional Indian clothing, and offered the chance for students to wear similar items in a photo booth.
Apart from the photo booth, other decorations included colorful handmade paper lanterns, lamps and sand art on the sidewalk.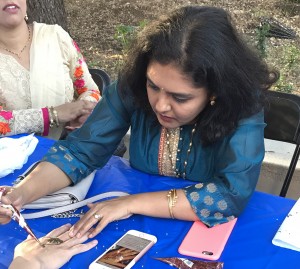 Rashi Jawalkar, who is studying for her master's in information technology at Cal Lutheran, was doing henna tattoos for students at the event. She said that because the country hosts many festivals, "we get a feel that we are in India."
Attendants including students, faculty, the Multicultural Programs staff and University President Chris Kimball spent time eating an array of Indian cuisine such as samosas, masala chai and a dessert called gulab jamon. After, there was time primarily filled with dancing and musical performances.
According to an article in USA Today, Diwali is interpreted differently depending on the region of India. However, the five-day celebration has come to be recognized by other faiths, including Sikhism and Buddhism.
Bhatt said that while a group such as the Indian Club will naturally have more followers of the Hindu faith, some members are Sikh.
At the Diwali celebration, Jawaklar was getting his head wrapped in a turban, which is a symbol of the Sikh religion.
"We tried our best to make it a cross-cultural event," said Nighat Shah, administrative assistant for Multicultural Programs.
The Indian Club is one of multiple culture and justice clubs at Cal Lutheran funded by Multicultural Programs, including the Muslim Student Alliance and United Students of the World.
Shah said that as the Indian Club is comprised of mostly graduate students, they face the problem of rotating members every two years as people graduate. However, she said that this year she sees more involved students who are hardworking and dedicated.
Rishikesh Ambildhok, president of the Indian Club, said within ten days, they managed to plan the entire event, working until midnight to get it done. He said they made announcements to students in Starbucks and the Student Union to get the word out.
Like other members of the club, Bhatt is from India, having been born and raised in Mumbai. Since coming to the states two months ago for the first time and moving to Thousand Oaks, he has had a transition from the "metropolis" where he grew up, but has no complaints about Cal Lutheran.
"So far so good. With the amount of warmth and welcoming hands that Cal Lu has shown, I'm impressed," Bhatt said.
Dakota Allen
News Editor