using art to reach students with autism
California Lutheran University hosted the 2017 Susan Greiser Price Arts and Learning Symposium: Reaching and Teaching Students with Autism on Saturday, Oct. 28. The event was designed to strengthen arts integration by building working partnerships between K-12, university and community members.
"We are gathered together because the arts are important, the arts are essential and the arts need to be part of each and every human life," said Maureen Reilly Lorimer, associate professor of education at Cal Lutheran's Graduate School of Education and key organizer of the event.
As defined by the John F. Kennedy Center for the Performing Arts, arts integration is an approach to teaching in which students demonstrate their understanding through an art form. Students engage in a creative process, which connects an art form with a subject area and meets evolving educational objectives.
"I'm really supportive of what art can do for autistic students, not only educationally, but therapeutically, so this is a really wonderful opportunity for all of us to learn more about that," said Edlyn Peña, co-director of the Autism and Communication Center.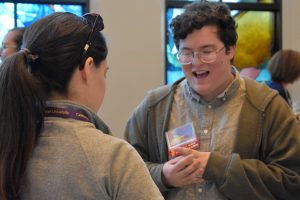 The symposium had interactive art stations, breakout sessions, student performances and an artist panel.
"People from all over the county are getting together to share their expertise on how to infuse art more into students with autism's lives," said Mel Spence, assistant professor of education and coordinator of professional development for the Autism and Communication Center.
Media arts, infusing art into core instruction, music and art therapy were some of the topics discussed in breakout sessions.
"There isn't one recipe for every child on the spectrum so you need to build that toolkit," Lorimer said. "If a teacher is in a classroom, and has only one set of tools to use, you're not going to reach all students."
Kaiden Cole Wilde, a poet from Southern California, performed a poem that provided insight into his experience as someone with autism.
"I found my poetry has allowed me to express myself with much more clarity and depth than just talking about my feelings and my story…I'm really glad that I did find my voice through poetry," Wilde said during the artist panel.
Giving students the opportunity to dance, sing, draw, paint, act and move in a certain way to demonstrate their understanding is quite powerful, Lorimer said.
"We really want, not only for all kids to have a good time when they're in school or learning, but in particular, if we have students with autism who are really enjoying the art process then hopefully they'll get more rewards out of the learning and their participation in that process," Peña said.
Communication is one of the main challenges that students with autism face, Peña said. Approximately 30 or 40 percent of people with autism have either minimal speech or no speech, Peña said. People with autism also face sensory and motor challenges.
"When we don't think about how to be all-inclusive in our instruction by trying new things…we lose out teaching those students and we lose out giving them knowledge and helping them become productive members of our society," Spence said.
Little things such as getting involved in the community and listening to people's stories can make a difference, Lorimer said.
"There are advocates like myself and others who believe in the power of the arts and go out of our way to make sure that it is incorporated," Lorimer said. "It is events like these that I believe are essential to keep the advocacy moving forward so that we can move beyond advocacy to action."
Citlali Erazo
Reporter