From JV To Varsity, Sophomore Joey Arnold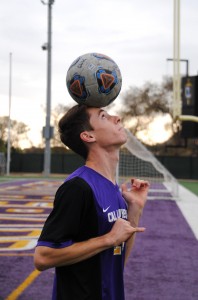 Joey Arnold, a sophomore on the California Lutheran University men's soccer team and a call-up from junior varsity, led the Kingsmen against Pomona-Pitzer by scoring all five goals for the 5-2 win. Immediately after Arnold scored the fifth goal, his teammates ran onto the field, threw him up in the air and began chanting in celebration. It was like a scene from a movie and a moment Arnold said he will never forget. But moments like these don't just happen overnight. It takes hard work and dedication.
Prior to playing in the game against Pomona-Pitzer, Arnold had only scored in one game all season. As a freshman, Arnold tried out for varsity and didn't make it; instead he was placed in junior varsity. Despite this, Arnold continued to stay optimistic that he would work his way up.
"I was focused on looking at the positives," Arnold said. "If I was on varsity, I wouldn't have played much and who knows if I would have enjoyed sitting on the bench. But JV allowed me to play all season and improve my game. I enjoyed it a lot and I think it helped me."
Arnold said he believes he was good enough to be on varsity as a freshman, but he lacked the confidence. Coming into college, Arnold wasn't sure what to expect and the uncertainty caused him to feel nervous going into tryouts.
"Trying to be comfortable was tough at first," Arnold said. "I didn't know what it would be like and I also didn't know anyone."
Arnold felt nervous and found it difficult adapting to his new environment. Arnold said practicing with players on the varsity team helped him gain the confidence he needed.
"After the season during second semester, I worked with guys who were on the varsity team and by playing with them I was able to be more comfortable around them," Arnold said. "I think that's what helped me perform my best during tryouts this year and has helped me play well throughout this whole season."
Dan Kuntz, Cal Lutheran's athletic director and head coach for men's soccer, said that at the end of last year, the junior varsity coach approached him and asked what the chances were for Arnold to move up to varsity. After Kuntz watched Arnold compete in a junior varsity game, Arnold had earned his spot.
"We moved him up to varsity to prepare him for this year," Kuntz said. "He's an amazing worker and has an incredible positive attitude."
Arnold worked hard to improve and his efforts paid off. Kuntz said Arnold came into the year faster, more skilled, had better instincts in front of goal and better composure on the field. Kuntz said Arnold is team-orientated and always wants what is best for the team.
"He wants to contribute to the team in the best possible way he knows how," Kuntz said. "He recognizes that, in order for him to do that, he has to invest himself in becoming better at what he does. When you have someone with that mindset, it's brilliant."
Rather than focusing on his individual goals, Arnold said his mindset is to always do whatever he can to help the team win. Kuntz said the mindset Arnold has for the team expresses his humble-like character and an outcome from how he was raised. Growing up, Arnold's parents encouraged modest behavior.
"My parents have always taught me to be humble. They don't like seeing people be all crazy about themselves and that just isn't the type of person I am," Arnold said. "I think once you start to get like that you believe your own hype and it can have a bad turnaround."
Arnold said his parents provided him with a positive environment and are his biggest supporters. His parents pushed him to succeed, but wouldn't force him to play. Their main concern was for him to enjoy soccer.
"There is more to life than sports and we wanted him to be a well-rounded person," said Noreen Arnold, Joey's mother.
Noreen Arnold said it was important for her son to be raised in a household where he could grow to be a decent human being.
"We never let anyone in this house take themselves too seriously. He has three younger brothers so he's never given the opportunity to get too full of himself," Noreen Arnold said. "He loves to score, but he's more focused on the team's success."
Kuntz said Arnold is respected and admired by others because he carries himself with dignity while also being a fierce competitor. Kuntz said it was rewarding to witness Arnold score those five goals and be congratulated by the team because he deserved it.
"In our league today, it's tough to have a blow out individual. You may get a winning hit or a winning goal or a winning catch, but to have what he did in one game against a team like Pomona-Pitzer, is hard," Kuntz said. "When you see someone like that and who deserves it, to see them get it, is fantastic."
Christie Kurdys
Reporter