Argentina Native with a Passion for Skiing
November 7, 2017|19 Views
For Francisco Atkinson, a junior at California Lutheran University, winter skiing is more than just a sport. It is a family tradition and a way of life.
The Buenos Aires native started skiing when he was around six years old. Atkinson took lessons at Club Argentino de Ski (CAS), which translates to Argentinian Ski Club, a well-known ski club in Bariloche, Patagonia Argentina. Atkinson's great-grandfather was one of the founders of CAS, Many professional skiers attend the school, as well as those who represent Argentina in the Olympics, Atkinson said. Atkinson's father was a champion competitive skier in Bariloche.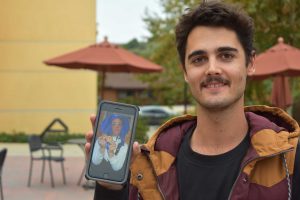 "Skiing always was a big part of my family," Atkinson said. "It has such a big influence with everything… I just cannot picture my life without skiing."
Atkinson competed in slalom skiing, downhill skiing that requires rapidly winding between poles. He said those who compete in slalom skiing "need to have very very strong knees" and avoid just sliding downhill. Rather, "you want to carve [the snow]," Atkinson said.
During the competition, skiers participate in two races and the score is based on the combination of both of those times.
"You just feel so so nervous because I mean you've been training for this for so long and then you're just nervous because there can be so many [factors] that can influence your skiing," Atkinson said.
Some of those factors include the wind, the texture of the snow and the order in which each participant skis, Atkinson said. Most of the competitions he competed in took place in Patagonia.
"It's a very dangerous sport but it just gives me a rush of adrenaline," Atkinson said. "You just have to be really really careful on the slopes."
When he was 14 years old, he injured his knee while riding a dirt bike at his ranch in the Santa Fe province of Argentina. He was travelling at 20 mph when his dirt bike lost traction, and he fell to the ground. After the accident, he said he could not walk for five weeks. He stopped skiing competitively after his knee injury.
"It was very sad knowing that I was not able to compete anymore because I had put so much time and dedication in the sport that I love, but I knew that it could [have] been way [worse] not being able to walk again," Atkinson said in a follow-up email.
Atkinson said his knee injury did not stop him from skiing recreationally. He said having fun with friends and family is one of the things he enjoys most about skiing. All of his memories center around skiing, Atkinson said.
"It's just the best. I wouldn't trade it for anything," Atkinson said.
Atkinson is in the process of starting a Cal Lutheran ski team with his friend Nicholas Oertli, a junior at Cal Lutheran. Like Atkinson, Oertli also skis recreationally.
"We're hoping to get [a ski team] set up for next season hopefully because I know a lot of people ski at Cal Lutheran and it would help a lot," Oertli said.
If a large group of people joins the ski club, they could receive a college discount on the Cali4nia Pass, said junior Carolena Huseby, a friend of Atkinson. The Cali4nia Pass would allow them to ski at Mammoth, Bear Mountain, June Mountain and Snow Summit for the 2017-2018 ski season.
Oertli said the plan is to get plenty of Cal Lutheran students involved so a group can go up and rent a house on a mountain for a weekend or two.
"Cal Lu is not at all far from these destinations…and it's super fun to ski with your friends, especially college friends, like new ones that you meet," Huseby said.
Citlali Erazo
Reporter