Dancing to Their Own Beats: Silent Disco
The Associated Students of California Lutheran University Programs Board hosted a Silent Disco on campus, giving students  an opportunity to listen to music on wireless headsets, dance with their friends, take photos, eat snacks and watch people dance in a silent room. The event took place on Friday, Nov. 3 from 7:30-9 p.m. in the Soiland Multipurpose Arena.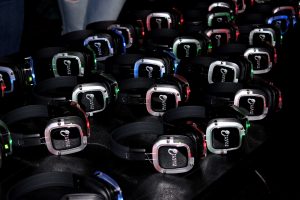 Each headset came with three different channels and volume control. Each channel played a different genre of music and students could choose their musical preference.
"Silent Disco is a new event on campus. You get to go out of your comfort zone and no one is there to judge you for your taste in music. Different playlists are created by DJs and no one else knows what other people are listening to. The whole room is quiet while everyone is jamming out to music," ASCLU Programs Board Director Samantha Schindler said.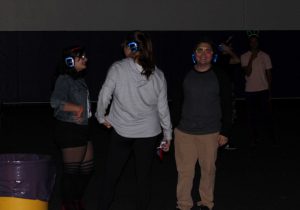 Schindler said that about a month and a half of planning by ASCLUG went into Silent Disco.
"Heather (Hooker, Programs Board Representative) started contacting a few Silent Disco companies for the equipment in early October," Schindler said.
Sophomore Benedict Carandang said the event had good music and lighting effects, but simply needed more people.
The display of the strobe lights, combined with the music people were listening to, created a disco atmosphere.
Schindler added that one reason for the creation of the Silent Disco event is that students have been asking for more musical events from Programs Board.
Junior Jeffrey Dizon agreed with Carandang, saying his favorite part of the event was the music.
"I liked how there were different channels for different types of music. I did break a sweat a little bit, so if you didn't go to the gym that day, it's the perfect way to sweat," Dizon said.
Dizon and Carandang said they would recommend people going to this event to people if it happens next year.
"Should have brought more friends. Next time I'm bringing 20 people plus for sure," Dizon said.
David Brown
Reporter