CLU Student from Myanmar Hopes to Return One Day
Myanmar, the southeast Asian country formerly known as Burma is currently engaged in what the United Nations says is the fastest displacement of a people since the Rwandan genocide, as reported in the New York Times. Over 500,000 Muslim-minority Rohingya who live in the Rakhine state of the Buddhist-majority Myanmar have been forced by the military to flee to neighboring Bangladesh since August, according the United Nations. For California Lutheran University student Aye Waddy, Myanmar is her home.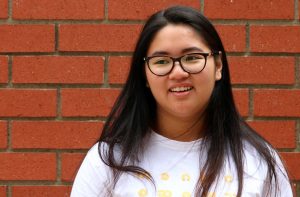 "There's still a lot of people who aren't aware that Southeast Asia in general exists outside of Thailand," Waddy said.
Waddy, a sophomore psychology student who was raised in the former capital city of Yangon, said that she grew up with the notion that her home country, which she describes as beautiful, had a tumultuous political history.
"We've accepted it almost to a fact that the government is corrupt and there are problems around it," Waddy said. "Luckily, with Aung San Suu Kyi, now that she has a little bit more political power we now have a difference between the government and the military but it's still pretty corrupted."
Myanmar State Counsellor Aung San Suu Kyi has received international recognition for her efforts toward promoting peace and democracy while under 15 years of house arrest. She was awarded the 1991 Nobel Peace Prize for her efforts. Suu Kyi has been criticized during the Rakhine events for not speaking out against the military. However according to CNN, the government is a separate power from the military which exercises control in Myanmar. Waddy said she sees Suu Kyi as a symbol of hope and does not like the negative portrayals of her in the media.  
"In my opinion she [Suu Kyi] can't do much because even though she has political power now, the military still has a lot more in general. They're more powerful than she is and people are just putting the blame on her, but honestly the whole country just needs to change," Waddy said.  
Waddy said she wants to be part of the change in her home country by obtaining a degree in psychology from Cal Lutheran and utilizing it in Myanmar.
"I never really heard of there being any psychologists or anyone to help people," Waddy said. "There's no one that people really know to talk to or anything, and I'm hoping I might be able to change that."
Sophomore Aliyah Wimbish said that she and Waddy met as roommates freshman year, and that Waddy is someone who "is always upbeat, caring and willing to talk to anyone."
"Aye Waddy always pointed out many differences between the U.S. and her home country and how there was several things about the U.S. that she enjoyed more, but there was also things about home that she missed," Wimbish said in an email interview.
Waddy said her appreciation for her country stems from the hotels her family owns around Myanmar. She said that traveling to the different hotel locations for trips has allowed her to see Myanmar in a way that others on vacation might not.
"Because we have hotels we tend to go on road trips around the country and I'm very grateful for that," Waddy said. "I get to travel a lot in the country and I'm fortunate to have traveled around some places in the world as well, and it's still one of my favorite places to see because tourist-wise it's quite untouched."
One of the hotels Waddy's family owns is in the Rakhine state of Myanmar. She describes the Rakhine state as one of her favorite places to visit, and said that she had wanted to go with friends, but their families were afraid of violence from the villages.
Myo Myint Htoo, Waddy's boyfriend from Myanmar who attends University of California San Diego said that he felt the conflict in Rakhine was caused by the military not the government.
"Contrary to those who believe Aung San Suu Kyi is responsible for this ethnic cleansing, many do not know about the state the country was in just six years ago, the country was run by a military dictator," Myint Htoo said in an email interview. "The best solution for these issues, both present and the future, is for Aung San Suu Kyi to come to an agreement with the military and create a strong infrastructure."
Nicki Schedler
Reporter