Bulldogs Spoil Finale For Kingsmen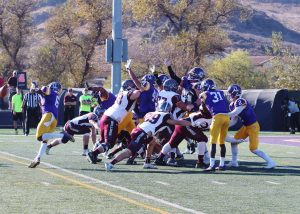 California Lutheran University students, fans and family members joined together to honor 18 Kingsmen football seniors during their last home game of the season.
Although the Kingsmen were able to celebrate pregame by honoring their graduating seniors, the Smudge Pot trophy was ultimately taken by the University of Redlands Bulldogs as Cal Lutheran fell with a final score of 21-17.
Those honored included Chris Beeson, Richard Caceres, Jose Carranza, Adam Friederichsen, Nick Gordon, Dane Griffin, Diego Hernandez, Auston Kniseley, Aaron Lacombe, Spencer Martinelli, Josh Mooney, Kaiden Mowery, Nick Nguyen, Wendell O'Brien, Lucas Quinn, Derek Reed, Evan Roth and Elijah Turner.
Redlands won the coin toss, electing to defer. After receiving the opening kick, Cal Lutheran's offense wasted little time. Friederichsen connected with O'Brien for a 78-yard touchdown that ignited the crowd inside William Rolland Stadium. Morgan Salzwedel's extra point brought the score to 7-0 with the Kingsmen on top.
O'Brien said the offense wanted to come out with intensity and put Redlands on their heels.
"From the start we wanted to come out and make our presence felt. We talked a lot about setting the tone for the game at the beginning and keeping the energy up the whole time," O'Brien said.
Defense was the name of the game for Cal Lutheran in the first half. Senior defensive lineman Dane Griffin came out ready to lead the Violet and Gold, tallying 15 total tackles including a sack assisted by junior defensive back Ty Lozano for a four yard loss on third down in the first quarter.
"That was so fun. I mean getting that sack was a huge situation for us. But I mean the whole D-line had a really good push. It was a game changer. It was a big play and it felt really good," Griffin said.
The Kingsmen's red hot defense  kept burning by senior defensive lineman Kaiden Mowery, who totaled 15 total tackles with two sacks including one in the first for a huge loss of six yards.
Although the Kingsmen did not allow any touchdowns during the first half of action, the Bulldogs made three of their four field goal attempts, bringing the score to 17-9 with Cal Lutheran on top going into the second half.
Redlands came out of the break with a newfound hunger, beginning their first offensive possession with a steady drive including 21 rushing yards for junior quarterback Levi Plante.
"The offense wasn't getting the looks we wanted in the first. Kicking all those field goals wasn't what we planned to do so we wanted to come out of the half with a new mindset," Plante said.
Despite wanting to chip away at the deficit with touchdowns, Redlands ultimately made yet another field goal attempt from 25 yards out, bringing the score 17-12 as the Violet and Gold watched their lead slowly deteriorate.
The third quarter was plagued with possession changes. Cal Lutheran made an exciting drive for 42 yards that was cut short at fourth and third by an incomplete pass from Friederichsen to Lacombe.
The solid play of the Kingsmen's defense carried into the third quater, not allowing any touchdowns and even pushing the Bulldogs for a loss of 10 yards in their second possession of the quarter.
"We prepared really hard, you know, we studied a lot of tape. We knew Redlands was gonna be a really, really good opponent, they're big, they're fast, they're strong. But I think we definitely held tough. Just preparation and playing hard," Griffin said.
Things got a little chippy in the third, including a Redlands penalty on senior wide receiver Kyle Kabeary after exchanging some words with Griffin.
The clock ran out on the quarter with Cal Lutheran in an extreme scoring drought but still holding on to a 17-12 lead going into the final quarter of play.
"We wanted to get out there and things didn't work out in our favor. It was more like a stalemate. Nobody was really scoring and we just gotta pick up the intensity and understand that everytime we go out there we have to score," O'Brien said.
Redlands continued their field goal trend, utilizing their first possession of the fourth to bury one from 23 yards out. The Kingsmen's 17-15 lead now dangerously hung in the balance.
Momentum swung in the Bulldog's direction in a big way in the fourth quarter, finally scoring their first touchdown of the game and taking the lead at 21-17 after missing a two-point conversion attempt.
"It felt really good. Going almost the whole game without getting a touchdown was hard for the offense but once we got it we had that winning mindset again," Plante said.
Cal Lutheran's hard fought battle to regain the lead was unsuccessful and included a moment when O'Brien hurt his ankle on an incomplete pass from Friederichsen.
"I'm good. My ankle just rolled to the side where it's sprained so it just turned to the completely opposite side. I was hoping I didn't break it or anything like that but I feel pretty good now," O'Brien said.
The Kingsmen fell to Redlands by a score of 21-17, continuing a disappointing two game losing streak and falling to a conference record of 3-3.
Priscilla Romofsky
Reporter