Cal Lutheran alum returns as interim pastor
Nikki Fielder arrived at California Lutheran University wanting to become a teacher, but changed her plans after she found herself working at a bible camp and taking a course on church vocations, taught by Scott Maxwell-Doherty and the Rev. Dr. Paul Egertson.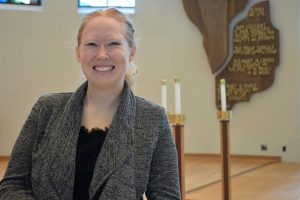 She graduated from Cal Lutheran in 2007 with a bachelor's degree in religion and a minor in mathematics. Nikki Fielder said she started discerning her call to ministry, and she went to seminary right after college.
Flash-forward a few years, and Nikki Fielder has returned to Cal Lutheran as interim campus pastor. She is taking on the role while Scott Maxwell-Doherty, the current Campus Pastor at Cal Lutheran, recovers from knee replacement surgery. She officially started on Oct. 31.
"I am so very glad Nikki [Fielder] was available and willing to accept this position, temporarily," said Scott Maxwell-Doherty in an email interview.
Scott Maxwell-Doherty met Nikki Fielder when she was a student at Cal Lutheran. He then followed her career path into the seminary.
Nikki Fielder's husband, Scott Fielder, said he screamed from excitement when he found out she had been offered this opportunity. Scott Fielder is also a pastor.
"If I was looking at this happening without hearing what anybody was saying you would think that somebody just said we're having a child," Scott Fielder said. "That's how excited we both were that she got to do this…we were just ecstatic!"
Melissa Maxwell-Doherty, the vice president of mission and identity at Cal Lutheran, has also known Nikki Fielder since she was an undergraduate student. She said Nikki Fielder was heavily involved in the community and would see her at retreats, meetings and worship.
"It's been fun to know her through her career and now see her as a pastor," Melissa Maxwell-Doherty said.
Nikki Fielder will be able to offer more to the Cal Lutheran community, because there is "only so much one university pastor and one campus Rabbi can accomplish in the office of Campus Ministry," Scott Maxwell-Doherty said in an email interview.
It is important that the students, faculty and staff continue to feel cared for and honored, Nikki Fielder said. Being Campus Pastor is an honor and also a great responsibility, she said.
"Nikki [Fielder] will provide a glimpse of what it would [be] like if we had more…because we know that with more, you can do more," Scott Maxwell-Doherty said in an email interview.
Nikki Fielder will act as the campus pastor until Scott Maxwell-Doherty returns on Dec. 19.
"I'm responsible for not only the spiritual well-being but also the physical well-being of people in this space and providing a safe environment. I want to make sure that people feel safe," Nikki Fielder said.
Citlali Erazo
Reporter