Elijah "LijahT" Turner: "Baby to the Game"
November 14, 2017|16 Views
From his first live performance in April, to his upcoming set at the Rolling Loud music festival in December, California Lutheran University senior Elijah Turner has had quite a year. While his musical success may appear to have come quickly, Turner and his friends know that "LijahT's" raps are the result of countless hours of work.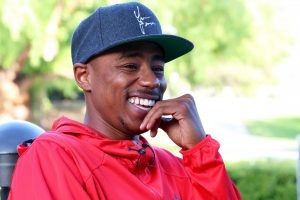 "Honestly it is a lot of work don't get me wrong, sometimes I would be like 'dang,'" Turner said. "But it's worth it because if you make a mistake, that's your mistake that you made, it's not that person that you depended on's mistake."
Turner is an up-and-coming rapper who writes, produces and mixes his own music. He has released one album called "Black Thoughts" and is releasing a second album, "Baby to the Game," in a few weeks. Turner explained the title of his album as a play on being a newcomer to the industry.
"I just started getting into the music industry so you know I'm a baby to it. I know what I know but I don't know everything, so that's the whole point of it," Turner said.
Turner transferred to Cal Lutheran from Pasadena City College in 2016 after being recruited to be a wide receiver for the Kingsmen football team. Through football, he met fellow wide receiver Wendell O'Brien and the two developed a close friendship. O'Brien described one day over the summer in 2016 when Turner played him one of his songs, "LA Girls."
"Originally, I just saw a football player because that's how I met him and then all of a sudden I hear this music and I hear him on the track and I'm like 'he sounds so smooth and natural,' you would think this is what he does," O'Brien said.
Turner's friend, Cal Lutheran senior Josh Mooney, said that Turner is skilled in thinking quickly on his feet.
"Just putting rhymes together from the top of the dome," Mooney said. "It comes easy to him like somebody just saying,'hey rap about this,' he's able to just, you know, think about it and then just go," Mooney said. 
Through his time as Turner's roommate in 2016, Mooney saw the work ethic Turner put into his music. Mooney called him a "night owl" who would be working on homework and his music simultaneously.
The time Turner has spent on his music led to him being asked to join the lineup of independent artists performing at the Rolling Loud Southern California music festival Dec. 16, with headliners such as SchoolBoy Q, Kodak Black and Future.
"You just have to be humble about it and just wait for opportunities. That's what I did, I had zero expectations when I started making music because I didn't know what was going to happen," Turner said.
Turner is performing a 30 minute set at the festival with his friend Stacey Nunn, who goes by "Pat Savii." They plan on performing songs such as "Push It," "Me Time" and their new song titled "Golden State." Their latest song has yet to be released.
"[Rolling Loud] challenges us to just kind of be innovative and come up with ideas to stand out and really just be ourselves and show the world who we are," Nunn said. 
The festival will be the largest crowd that Turner and Nunn have ever performed for. They said they treat the event as an opportunity to network with other artists and promote themselves.
"Even though it's going to be thousands of people screaming and hollering I've still got to remember my lyrics," Turner said. "I've just got to remember what I'm there for even though I'm there to have fun, I know it is business at the same time."
Turner has been collaborating with Nunn since they met in their apartment complex earlier in the year. Nunn moved from Seattle to continue his music ambitions in the Los Angeles area. He and Turner found commonality through their love of music. 
"The best part about writing with [Turner] is that the song is always real, the song is always authentic and it's fun," Nunn said.
Turner said he hopes people can learn more about him through his music because of the personal topics he covers in his lyrics.
"It's a way for you to really understand me without us physically talking," Turner said.
More of Turner's music can be heard on his iCLU radio show, "The Real Hip Hop Hour," from 7-8 a.m. Tuesdays and Thursdays and through his weekly performances Tuesday nights at the Zen Lounge in Studio City, California.
Nicki Schedler
Reporter