Students Gather Together for World Peace
California Lutheran University's Muslim Students Alliance and Community Service Center hosted a World Peace Open Mic Dinner on Monday, Nov. 6, providing pizza, pasta, salad and drinks, as well as discussion of how students can make changes toward peace.
The event was led by sophomore Sana Shah, president of Muslim Students Alliance, and freshman Olivia Becker, intern for the Community Service Center.
"We went to an Interfaith Youth Core Leadership Institute conference in Chicago, and when we came back to Cal Lutheran we reached out to each other, saying how we wanted to put up an event like this, and we decided this date because it's International World Peace Day," Shah said.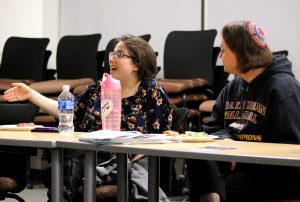 At the dinner, Shah and Becker gave a presentation that showed different quotes and stories about peace, which opened up discussion from other people attending the event.
One example of a quote discussed at the event was Mahatma Gandhi's statement, "An eye for an eye makes the whole world blind."
A second quote sparking conversation between attendees was Ronald Reagan's statement, "Peace is not absence of conflict, it is the ability to handle conflict by peaceful means." 
"We hope people got some food for thought from our quotes and from each other on little things they can do to make a difference, as well as people with hopeful attitudes for our world," Becker said.
Becker also said she believes world peace is an important topic to discuss.
"If you just look in the news, you see tragedies all the time, and it's individuals committing these tragedies, but large groups like religious groups can have huge influence over individuals. So it's important to influence people not only in themselves but also as the whole," Becker said.
Junior Ilana Zori nsaid the event created an environment where all people could feel welcome.
"I really like this event because coming from a Jewish perspective it's really nice to hear others talk about Christianity, or being Catholic, or especially Muslim because there's always a stigma that Muslims and Jewish people don't click," Zorin said.
Zorin also said world peace is a significant topic to discuss because it has never been achieved. She said with everything going on in America and worldwide, we need world peace more than ever.
Everyone who attended received a free t-shirt that said "striving for world peace."
"We hope to spread that mentality to other people of keeping your mindset open to listening to others, and try to get out of your comfort zone and talk to people who are different from you…In my perspective, it [Cal Lutheran] already has a strong interfaith mindset," Shah said.
Shah said the Muslim Students Alliance was previously called the Muslim Students Association. To Shah, "association" sounded as if the club was limited to only Muslims.
"I didn't like that term, especially to a Lutheran university. I wanted to see who were the allies and supporters of Muslims, so that's where the name came from," Shah said.
David Brown
Reporter