University Welcomes New Muslim Life Coordinator
With less than a week on the job, Mohammed "Ezra" Humkar already has plans to improve the California Lutheran University community as the new Muslim Life coordinator. Humkar officially began working as the coordinator on Nov. 27.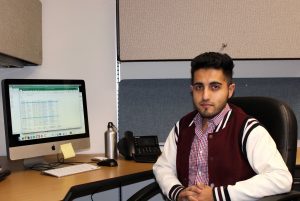 He said because this is a newer position, the beginning step will be to focus on building the Muslim community through social events and gatherings.
"There are Muslim students on campus: graduate, undergraduate, international and American. We want to get them in one space and have them get to know one another to build a foundation," Humkar said. "Once we have that solid foundation, then they can present themselves to the greater university."
Humkar received his Bachelor's degree of Communication at UCLA, and completed his Master's degree for Business Administration at Cal Lutheran. In addition to being the Muslim Life coordinator, Humkar works as a social media manager for Elhaam Magazine, an online magazine intended to inform both Muslims and non-Muslims of the culture of Islam in America. Additionally, Humkar is the programs coordinator for the Al-Rasool Foundation. As program coordinator, he plans social events, creates youth programs and develops the curriculum for Sunday school classes. He also works part-time at the Guardian Distribution where he manages sales activities and creates marketing strategies.
Director of Congregational Relations at Cal Lutheran Desta Goehner said she has already learned a lot about Islam from working with Humkar for the past few days. Goehner said Humkar will bridge relationships to advocate for students.
"He's not just going to be for the Muslim community on campus, he's going to be here for all of us," Goehner said. "Part of the university's mission statement is we're educating leaders for a global society. When students and faculty get to work alongside people of different faiths, it helps shape us to be more global people."
Goehner said Humkar values the importance and power social media has in today's society. She said part of his relationship-building is what will make a positive change.
"He values in-person interactions, but also sees the digital and social media world as another important layer of community," Goehner said. "He's going to help, not just tell the story of Muslims on this campus, but also inform others through the digital world."
Humkar said it is important for minorities to engage with the overall community and to avoid isolation. He wants the Muslim community to interact with the rest of the student population and inform non-Muslims about Islam to create a sense of unity, he said.
"The next step would be to organize events, not just for Muslims, but for the entire CLU community, which would include interfaith events," Humkar said. "The main goal is interconnectivity and to bring people together." 
Sana Shah, president of the Muslim Students Alliance (MSA), frequently works with Humkar when creating interfaith events. The MSA involves people who are Muslim on campus, but also non-Muslims who are supportive of the Muslim community and want to be involved, she said.
"The purpose of interfaith events is to bring us all together," Shah said. "One idea was to host a Jesus and Mary event to inform others of the Islamic aspect as well as other religions [beliefs]. That way it would also be an interest to people of different religions and not just Muslims."
Humkar said Cal Lutheran provides benefits most schools do not offer because of the university's size. Characteristics, such as small class sizes and tight-knit communities, are valuable and not typically found on big campuses.
While attending UCLA, Humkar said he was living in a completely different atmosphere from Cal Lutheran and it was difficult to go in the culturally opposite direction of other students.
"You feel like you need to conform to the overall picture and here you don't have that," Humkar said. "Because CLU is a faith-based school, there is more of an understanding and we can be more open. For example, Muslims here can pray because there is a devoted room for prayer for all faiths. At UCLA, you didn't really have that."
Humkar said he thinks some Muslims overlook Cal Lutheran simply based on the fact that it is a Christian-affiliated school and  because they are unaware of the support available.
"CLU definitely supports the Muslim community and is doing its job by providing the resources they need," Humkar said. "I didn't recognize those benefits until I was here as a student myself."
Sophomore and MSA member Wehida Niazi said she feels that Humkar will connect and relate to students because he is a Cal Lutheran alumnus.
"He knows the campus and has a background here so I feel like we have more trust in him and can rely on him," Niazi said.
Niazi said the presence of the MSA and gaining a new Muslim Life coordinator on campus helps Muslims come together and collaborate with other clubs and religions. This allows both Muslims and non-Muslims to get to know one another, gain friendships and educate others about their beliefs. Shah said this enhances the university's diversity.
"Especially for a religiously affiliated university like Cal Lutheran, having a Muslim life coordinator provides a diverse aspect," Shah said. "He will be a big part of the community."
Christie Kurdys
Reporter