Who is Congressman Elton Gallegly?
"I make no apologies for being conservative republican. I think that's how we're paying the bills in this country."
Congressman Elton Gallegly served as a representative for 26 years, ending in 2013 after choosing not to run for re-election. In his time, Gallegly served on the House Foreign Affairs, Judiciary and Veterans' Affairs Committees, among others. He is the longest-serving representative of the Ventura and Santa Barbara Counties.
Gallegly said his work in public service began when he ran for a position on the Simi Valley City Council in 1979 after working in the real estate business with his own small company.
"I wasn't real happy with the way local government was being run," Gallegly said.
Six months later, Gallegly was appointed mayor. He agreed to take the position on the condition that the public would be asked on a ballot measure if they wanted it to be an elected position. The measure passed, and Gallegly was elected for his next two terms.
When Gallegly first ran for Congress in 1986, he said he faced Tony Hope, son of comedian Bob Hope, who had the endorsement of President Ford and others in Washington.
"We won overwhelmingly, but we knocked on over 18,000 doors and met the people," Gallegly said.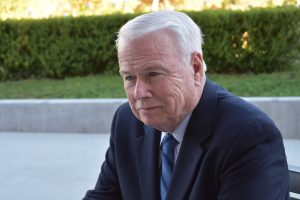 Gallegly attributes his success to his wife Janice, whose name was made sure to be placed on the Elton and Janice Gallegly Center for Public Service and Civic Engagement. Both Elton and Janice referred to themselves as a team.
"We've always been like a team…so that's why it wasn't Elton Gallegly, it was Elton and Janice," Elton Gallegly said.
Today, the couple of almost 44 years of marriage, with four children and 10 grandchildren, spends their time volunteering at the Reagan Library and recruiting donors and resources for the Center. Most important to them is time with grandchildren.
"The best thing in life, I think, as a parent is watching your kids grow up and become parents," Janice Gallegly said.
From his time as a congressman, Gallegly said highlights of his career include fighting for animal rights, helping broker the Good Friday Accords to create peace in Northern Ireland, working under Ronald Reagan and even working on the House Intelligence Committee.
Gallegly is most proud of his office's work in constituent services, which was largely comprised of helping people navigate immigration matters.
"If someone had any legal right, we went to bat for them 100 percent," Gallegly said.
Brian Miller, the current chief of staff for Ventura County Supervisor Peter Foy, was Gallegly's district chief of staff and worked with him for 22 of his 26 years in Congress. Miller said around 70 percent of Gallegly's casework helped people become legal citizens.
"Congressman Gallegly during his time was, I think, unfairly labeled as anti-immigrant, and really nothing could be further from the truth. He was anti-illegal immigrant," Miller said.
Miller said a family once came to Gallegly's office when a high school student's parents were stuck in Mexico and unable to obtain a visa to come see the graduation ceremony. Gallegly personally made calls to get them into the United States, and picked them up from LAX to get them to the ceremony in time. Miller said it's personal stories like these that are best remembered.
Herbert Gooch, a political science professor at California Lutheran University who has known Gallegly for around 20 years, said immigration was an issue that arose later in Gallegly's term, and that people ignore how he was a spokesperson for immigration reform.
"It's painful when you're doing things that you really believe in that's within the requirements of law, and people want to call you names," Gallegly said.
Students and faculty at Cal Lutheran expressed concerns regarding the Center, stating that Gallegly's beliefs contradict the university's values, in particular citing his immigration policy.
When asked for his response, Gallegly said, "All I would say is get to know me, get to know me. Make an informed decision, don't fly by the seat of your pants."
Gallegly said he only heard secondhand of the controversy on campus, and wishes he was not insulated from it.
Vice President of University Advancement Steve Wheatley said that this "internal process" within the institution was kept separate from Gallegly's involvement as a donor. Kristine Calara, the associate vice president of University Advancement, also said they did not see a need to alarm him.
Simi Valley City Councilmember Glen Becerra has served on Cal Lutheran's Board of Regents for around nine years. Becerra said he met Gallegly in 1992 when asked to join his summer campaign staff. Since then, Becerra said the Galleglys have been close friends and shared in his family's births, baptisms, holidays and other events.
Becerra said the Center should not have come as a surprise, and that there was never a question of its nonpartisan nature, calling this a "fallback complaint."
"It's a little concerning that on the eleventh hour all this would be brought to a head," Becerra said.
Becerra, like Miller and Gallegly, referenced Gallegly's friendship with former Democratic Congressman Howard Berman, who Miller said was one of Gallegly's best friends in Congress, and also "one of the most liberal." Berman helped author the bill that would become Deferred Action for Childhood Arrivals (DACA).
Gallegly made clear that the university approached him for support with the Center, not the other way around.
Wheatley said he approached Gallegly when other universities were trying to get his archives, and feels that the Center with all of its components is a "feather in the university's cap."
Wheatley said almost all of the donors to the Center have come from Gallegly's connections and recruitment.
"There's nobody that you would want on your side if you had a problem more than Elton Gallegly. He was known as a bulldog. Once he sunk his teeth into something, he wasn't going to let go," Miller said.
Dakota Allen
News Editor