Moffett's New Role Leads to Heightened Success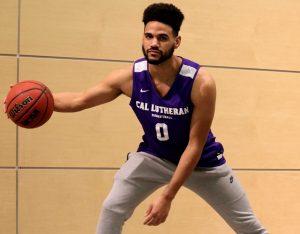 From coming to a new school and being a part of a team full of upperclassmen leadership in 2016, to now being the lone senior on the floor, KJ Moffett senior starting guard for the Kingsmen, has assumed a new role on the court this season. He has stepped into a new position as one of the team leaders. He is now a powerful multi-position player. 
When it came to the subject of leading a young and mostly new team, Moffett was looked towards as an immediate leader and someone to gather the team and start fresh. 
"A lot more has fallen on my shoulders from the seniors and leaders we had on the team last year," Moffett said. "I'm following in the footsteps of Reagan [Chapman] and Adrian [Francis)]and Wolfgang [Wood- so I kind of just implement their leadership styles and implement them in the best way I can."
On top of having a new roster, the Kingsmen basketball program also brought in a brand new coaching staff. The team used the start of the season to work out the kinks.
"I feel like we've made some progress.  It's been rough to start because we had a new coach, new players, new everything, so now we're kind of starting off fresh, and I feel like we've finally made progress in playing the way the coach wants us to play, the way the offense needs to be run and picking up those defense philosophies," Moffett said.
With this new coaching staff comes the return of the former Kingsmen guard and teammate of Moffett for many years, Adrian Francis, as a new Graduate Assistant Coach. 
"It's fun to play with someone that you want to be with on and off the court.  The kid is a great person overall and a great basketball talent as well," sophomore forward Blake Miles said. 
Having played with Moffett since their early teens, Francis has had the opportunity to watch Moffett grow as both a player and a person. He now has the opportunity to help coach Moffett's final season.
"The biggest growth KJ has faced was that of becoming a leader.  I would say he's never had to be a real, real leader like that since probably high school," Francis said. "I think he's really learned from the captains that he's seen, Caleb Richey was one last year, I was one last year.  I think he's done a good example for these guys to learn from, to just be there for them."
Now as a coach rather than a teammate, Francis has also seen Moffett's style of play develop, having watched him play multiple positions out on the court. 
"I think KJ's biggest asset is his ability to play multiple positions," Francis said.  "Last season, we had him play a four, and with Caleb not being on the team this season he had to transition to be a one. His ability to just adapt and play multiple positions and to just fit into a role and be successful at that role is pretty tough to do, and I don't think many people appreciate that ability he has."
Moffett also mentioned that the multiple positions he's had to play have helped him in the long run, contributing to his field goal percentage of 55.6 percent, and his average of 12.5 points per game. 
"I feel like it's made me more of a diverse player, I'm not really one dimensional anymore; I can use post skills against smaller guards, and use my quickness against bigger guards and bigger players as well," Moffett said.
Having the presence of a teammate and coach like Francis has greatly helped influence his play as well.
"It's been great. He's always been a mentor to me because we've played together since I was thirteen or fourteen, so knowing him for so long has helped me throughout the years and it's just continued until now."
Finishing up the 2018 season alongside Moffett are teammates Austin Cole and Blake Miles, who have watched Moffett's transition to becoming a starter and a key component of the Kingsmen's success.
"He's a great leader.  He leads by example and he's always working hard, always doing the right thing on the court and it's contagious," junior guard Austin Cole said. "You can for sure see a change in his role and his leadership.  He's been a lot more vocal this year and you can tell he's the only senior on the team just based on how he holds himself.  You can see his desire to win and compete on a high level."
With nine games left of regular season play, Moffett is gearing up for the end. 
"I want to finish out strong and I feel like we finally started to do that," Moffett said.  "It's my final season. I want to finish it the best I can, no matter what the circumstances, no matter how hard it gets at times.  I want to just finish out and be able to perform at my best and give our team the best chance to win, and that's just what I think about day in and day out."
Alexa Barnes
Reporter