California Lutheran University is undergoing changes to the layout of the Pearson Library.
During its ongoing collection analysis, the Pearson Library staff recycled hundreds of books that were either outdated or already available online, which opened up a large area of space at the front of the library that currently serves as a collaborative work area with temporary furniture.
Recycling books is part of a process that Corrie Bott, the Pearson Library's reference services coordinator, said is happening at most major universities. She said that in an increasingly digital age, there isn't as much of a need for university libraries to carry extensive print collections.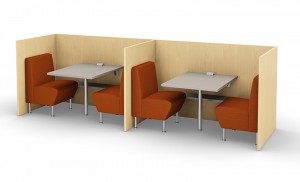 "It's a growing library trend to reduce print reference," Bott said. "Building on that, we now have more collaborative space for the students to work."
Lala Badal, assistant director of information resources at the Pearson Library, said the library will continue adding print books based on faculty's needs, but that the collection of electronic texts will continue growing for 24/7 access. 
Seeking the opinion of students, the librarians listed potential furniture options on a white board. Among the top vote-getters were collaborative booths and napping pods. However, Bott said the furniture options are simply an idea of what the library might get.
"It was interesting to see how the votes came in," Bott said. "I was assuming tables were popular, but actually the collaborative Starbucks-like booths got a lot of votes."
Jakar Oriseh, a sophomore at Cal Lutheran, is encouraged by the library's attempts to cater towards changing student needs, but thinks that significant changes during the school year could be "disruptive".
"I like the new layout of the library. But personally, I think it's good as it is," Oriseh said.
Cal Lutheran senior John Lewis III does most of his studying in the Student Union. He said it is a more appealing study destination because of its "relaxed atmosphere" and "tech-friendly furniture."
Bott suggested that the new furniture will fulfill the technological and collaborative needs of students.
"You might see desks that have the power outlets, or even desks that have monitors with the capability of being able to plug laptops into it. Movable glass walls so that students could create a study space within our area. Movable white boards so they could study together," Bott said.
Bott thinks that the new designated collaborative space will make the library feel less crowded.
"We realized students needed more space. That was a benefit, but there's also the knowledge that if we open it up, we'll hopefully cater to more students."
Jake Gould
Reporter