Eye-opening Alternative Spring Break experiences
This past winter break, the California Lutheran University Community Service Center took a group of 10 college students on the annual Alternative Break trip. This service trip brought students to Taos, New Mexico.
Cal Lutheran Community Service Center Coordinator Madeline Liberti, along with the help of two student leaders, Stevie Flynn and Bailey Borup, led the week-long trip. In Taos, the group worked with Habitat for Humanity's Collegiate Program to help finish the construction of houses for families in need.
"We chose to work with Habitat for Humanity's Collegiate Challenge Program. We chose Taos, New Mexico because it was a very intriguing place we didn't know too much about, and we thought it would be an exciting change from normal Southern California winter," Liberti said.
Upon arriving in Taos, the trip began with a visit to Habitat's ReStore, a store with donated furniture and building materials sold to people in the community at a discounted price. After learning a little about the environment they would be working in, the group dove into their work.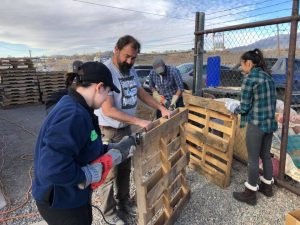 Working with coordinators from Habitat, the college students helped finish two separate houses. Putting up plaster, drywall and painting were among the physical tasks the group partook in. While the physical completion of the houses was rewarding for the college students, they said that meeting the families who would be receiving the houses stuck with them tremendously.
"Seeing the families, hearing their stories, watching them cry, it was really heartwarming. Those moments where you see what you're doing for someone really matters. It was awesome," Flynn said.
Students also had the opportunity to explore the town where they were serving and learn about what brought people to Taos.
"Taos is also really known for their artwork. A lot of artists over the decades have gone there to get inspired and paint the landscape. It's a very creative place hidden away from everything," Liberti said.
Luckily, the students were not walking into Taos blind. Liberti, Flynn and Borup made sure that all members on the trip understood the culture and their purpose of being in Taos.
"It was important for us to have conversations before we went to Taos so that all of us could have as much of an open mind as possible and a willingness to step out of our comfort zones," Liberti said.
This was Borup's second service trip with Cal Lutheran, and she said she enjoyed becoming a part of the Taos community for the week. It allowed her to step out of the bubble she has grown up in.
"I've lived in Thousand Oaks my whole life so I've been around the same socioeconomic status. It was interesting to go into a town where 90 percent of the population can't afford housing and they don't make a livable wage. It was definitely an eye-opener," Borup said.
Liberti felt confident that all students on the trip were able to see the big picture of the service trip and experience the impact serving a community has.
"I was really impressed with how curious all the students were, and how interested they were in learning about the process, the people and how they could help, understanding their role but also the bigger picture, why it was so important for us to choose this specific community and what it meant to them," Liberti said.
Flynn shared how her first service trip, both in general and with Cal Lutheran, changed her life. She talked about how she was inspired to join the Peace Corps, work for Habitat and incorporate service and volunteer work into her life.
For anyone considering the next Alternative Break trip, Borup would give her personal recommendation and encouragement to go.
"It doesn't really matter where you're going or what you're doing; it's just the idea of giving back. It's a really good experience to get out of your own element and experience what it's like to be somewhere else," Borup said.
The Community Service Center will host their next Alternative Break trip this coming spring as they travel to Siem Reap, Cambodia.
Catherine Slabaugh
Reporter