Cal Lutheran Political Science Department to Shrink
After 31 years at California Lutheran University, Herbert Gooch, who has a doctorate in philosophy for political science, is retiring after this spring semester. Since 1987, Gooch has been a political science professor, and has previously served as director of the Masters in Public Policy and Administration program and as assistant provost for graduate studies.
Haco Hoang, a fellow political science professor, said that the department will be pulled in many directions following Gooch's retirement since they provide all global studies and political science classes. She said it could also affect the number of courses.
"Herb is the go-to person politically, not just at CLU, but for all of Ventura County. I don't know how you replace someone who is that," Hoang said.
Hoang said she will only be taking half a semester of her sabbatical leave as a sacrifice for the department since they will only have four remaining full professors, including Michael Brint, who is abroad every fall with the Oxford study abroad group.
Gooch said he enjoyed the smallness of Cal Lutheran when he first began working on campus part-time.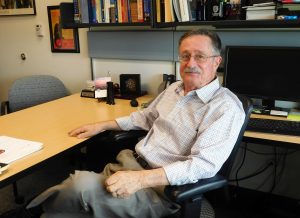 "There's a very camarader-ish feeling, and I like the sense that people let you pretty much do your own thing," Gooch said.
Gregory Freeland, a political science professor, has been at Cal Lutheran for 26 years and said when he sees the things Gooch has accomplished, it keeps him going.
"It's been a very good experience since day one. I think he's an excellent colleague; he has all the answers, and he's inspirational," Freeland said.
Gooch has been in charge of running many Cal Lutheran programs such as the study abroad program to Washington, D.C. and the trip to Sacramento. He said he liked that he had the chance to do many things while keeping one foot in administration and the other in teaching.
"One of the things I liked here is I could be a Jack of many trades," Gooch said.
Gooch said the political science department will probably need to be added to eventually, but he is not worried about how it will persevere without him.
"It's very well situated; I think it will carry on just wonderfully. I am very proud. It's got a lot of people with widely different fields of expertise, and everybody in it is engaged in the larger community," Gooch said.
Freeland said Gooch is very good at running his programs such as study abroad and they will eventually need a replacement.
"It's hard to replace a good colleague; in terms of a resource, the impact is tremendous," Freeland said.
Gooch has been elected to be next year's president of the Rotary Club of Thousand Oaks. He plans on staying active in the community by serving on public boards, doing charitable work, engaging in political fairs and debates and training people in the Ventura County Leadership Academy.
Outside of his work, Gooch's passion is traveling the world. He said he spent a lot of time living abroad in places such as France, Thailand, Nepal, Venezuela, Europe and many more.
Gooch's wife, Chris, worked for Cal Lutheran in the business office for the control room and retired three years ago. Gooch said she is looking forward to her husband's retirement.
Hoang said that Gooch always comes from a place of encouragement and support and that he is a good team player. She said that she has never felt like a junior faculty member because of the family dynamic the political science department has.
"I'll miss knowing whenever I'm on campus, I can always find Herb. I'll miss those little hallway chats we could have, those little moments that we have between classes. I'll miss having a colleague who is a friend," Hoang said.
Gooch said the best thing about educating is that he gets to learn as well.
"It's fun here; kept eternally alive and off-balance by strange questions, changing lifestyles, it's fun to find that you can help others," Gooch said.
Brooke Oyler
Reporter