Caroline Laubach named peer adviser of the month
A new peer adviser of the month was named by the California Lutheran University community and Student Life. Caroline Laubach, a sophomore political science major from Lakewood, Washington, was awarded this month.
"I think it's just always trying to be there for your students and just being helpful to the program itself, and I'm honestly just honored to be peer adviser of the month," Laubach said.
Coming from a state outside of California, Laubach remembered being a freshman and having to go through the struggle of meeting new people; this gave her the inspiration and drive to join the peer advisor program and make sure no one felt the way she did.
"I can remember being a freshman at orientation, and I didn't know anyone here, so transitioning was really difficult," Laubach said.  "I remember being really sad because I didn't know anyone, and I told myself that I didn't want anyone else to feel this way, and I thought maybe joining the peer advising program would help other people too because I understand that it can be really rough and difficult."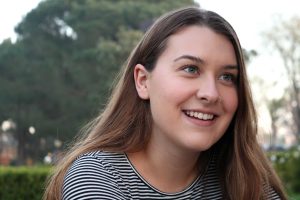 Now a sophomore, Laubach enjoys being able to help assimilate new groups of freshmen to campus, being both a stepping stone and guidepost along the way.
Despite the early hours spent working on freshman orientation each year, Laubach said it's worth it.
"I really enjoy getting to meet a lot of different people on campus, and I feel like it can be really hard to meet people, even at a small school," Laubach said.
Helping Laubach advise her freshman group was Christopher Brown, a professor from the mathematics department, who over the course of the past two semesters has seen Laubach help guide a new group of freshmen into Cal Lutheran.
"I think that for the students in the class, she was a good combination of a mentor and an older sister," Brown said.  "She's very poised and articulate.  When she's speaking to her peers and she's able to stand up in front of a crowd. She's able to interact with the students in the group very easily and she was very willing to listen to students and answer their questions."
Under Laubach's guidance was freshman peer student Bryttney Avella.
"I liked Caroline from the beginning," Avella said.  "She's so fun, and she's funny and she's spunky.  She made the peer group really fun to be in."
Both Avella and Brown said in part that Laubach was a great mentor for her freshman class, being both helpful and entertaining by engaging her students with games and helpful tips.
"It helped a lot because in the beginning she initiated a lot of games so we would meet each other, and it helped a ton once we got to know one another," Avella said.
Brown echoed similar sentiments about how Laubach was helpful.
"She's knowledgeable about the way things work around here and she was able to give the students a lot of good advice from a student perspective that we professors don't have," Brown said.
Planning on continuing her adventures in peer advising, Laubach is looking forward to another semester of assisting both freshman and transfer students with getting acquainted to Cal Lutheran. She said she is happy that her knowledge can help make more students comfortable here on campus.
Alexa Barnes
Reporter