Graduating senior and English and Spanish double-major Cynthia Castillo opened up about pregnancy, college and life as a single parent. She did not let starting a family a little earlier than planned prevent her from achieving her education goals.
Castillo, now 22, started out at California Lutheran University nervous but ready to begin her college career. It wasn't until the school year had officially begun that she realized her life was changing in more than one way.
"I was definitely shocked because you think about [pregnancy], and especially here, I didn't see anyone else in that situation," Castillo said. "I was a freshman and I had just moved in to start here, so it was definitely just the tip of the iceberg."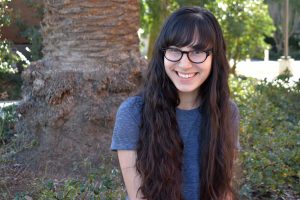 For Cynthia, support was key not only because she was continuing her schooling, but because she was working at the Writing Center on campus.
"I worked regular hours up until I left. They told me that if I needed less hours or anything, they would accommodate me," Castillo said. "There are also a lot of other services on campus like Pastor Melissa [Maxwell-Doherty] from Campus Ministry and counseling services. They were all very helpful."
Castillo also made friends during her pregnancy, namely Jessica Rinehart, an English major also graduating this spring. The two seniors made sure to stay in contact when Castillo took a semester off from Cal Lutheran to take classes at College of the Canyons until she was ready to return to campus.
"She kind of breaks the stigma that you can't do both, that you can accomplish school and having a child," Rinehart said. "She's an inspiration to me. She shows that you can finish whatever goals you have while having other factors thrown at you."
Castillo and Rinehart became very close after Castillo had her child. Rinehart said that in that situation, it is important to be there for your friends and to support them through their life because it isn't going to be a typical friendship.
"You have to recognize that they can't just drop everything to hang out with you, and you can't get upset about that," Rinehart said. "I also think that as you get older, the idea of friendship changes. In college you meet up when you can; they won't always be around, but you know they will still be there for you."
As far as working goes, Castillo's supervisors in the Writing Center, Scott Chiu and Tanvi Patel, were very cooperative with her during her pregnancy.
"Dr. Chiu was really helpful because he let me work and come back after I had my child," Castillo said.
Castillo's coworker and psychology major Emily Kane also noticed that Castillo's work ethic and determination did not change after her pregnancy.
"She came back to work after a semester off and was working really hard," Kane said. "She had a full load and was commuting a long way. She participated in every Writing Center event and conference. She has a lot of enthusiasm and motivation for it."
Kane said that she's proud of Castillo.
"I know she's a double major and it's a lot of work, and staying on top of that while having a baby is pretty cool," Kane said.
She said that having a baby is life-changing and it has impacted her in every way. She now has another person she must take full responsibility for.
She makes sure to allot time for herself and her family. In her spare time, she likes to go out with her son and boyfriend to parks, museums and gardens. She also loves to bake with her son because he can be involved in the activity and then share the goodies together after.
After graduation, Castillo wants to look into a graduate program and plans on getting her doctorate in either of her two majors.
"I would like to be an editor and a translator at some point in my life," Castillo said.
Castillo's advice to anyone that may be in her situation is to take advantage of the resources on campus, not to isolate yourself and to find people like you who are going through a similar situation.
"God helps especially, life gets better, children are blessings and life is beautiful," Castillo said.
Ashley Fisher
Reporter
Updated 3/12/18 at 6:40 p.m. Tanvi Patel's name was previously misspelled.