Hypnotist David Hall Enchants Cal Lu Once Again
Hypnotist David Hall came to California Lutheran University to perform an interactive hypnosis show Feb. 9 at the Preus-Brandt Forum. The event was put on by the Associated Students of California Lutheran University Government as part of their ongoing series. Along with the show, students were automatically entered in a prize raffle and were treated to cupcakes after.
Now in his third appearance at Cal Lutheran, Hall and his assistant, Antonina Al, centered their performance on a theme they called "cards against hypnosis."
Jacky Quintero, sophomore representative in charge of the show, said after Hall's performance last year there was a demand to have him back.
"He seemed to be great with everyone. I contacted him and it was super easy to talk to him," Quintero said.
To begin the show, Hall asked for 20 volunteers that would be willing to be the "stars of the show." Hall asked that volunteers be willing to be hypnotized or else the hypnosis would have no effect.
Once students were up on stage, Hall began with a routine that was meant to fully relax them until they were in a state of hypnosis. Soon after, Hall had students falling in and out of sleep with a snap of his fingers. In one instance, one student fell to the stage floor.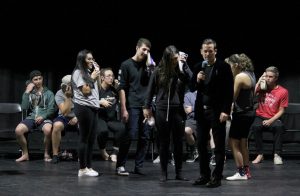 The audience was able to guide the direction of the show. As part of the "cards against hypnosis" theme, students chose activities that the hypnotized students did. Hall threw a frisbee into the crowd and whoever caught it would get to decide the activity.
Hall said hypnosis has no negative effect on the body; it leaves the body feeling relaxed, and he compared it to getting a full night's sleep.
One well-received performance of the night came from a group of hypnotized students that were convinced one was Beyoncé and the rest were backup dancers. The student went on to lip sync the Grammy-winning single "Single Ladies," while the backup dancers created an impromptu routine.
Estela Bautista, a student in attendance, said she especially liked the Beyoncé routine.
"I wasn't expecting it to be like that. I thought it was really funny," Bautista said.
Another performance came from all of the hypnotized students on stage. Hall made them believe they were in a dance contest where the winner would receive free tuition. According to the Cal Lutheran website, that would be equivalent to about $163,000 for all four years. Students danced everything from the Waltz to the Dougie, trying to win the competition.
After the show ended at about 9 p.m., students were treated to gourmet cupcakes provided by Sweet Arlene's.
Quintero said booking Hall's performance and the Forum while planning the prizes was a lengthy process.
"Back in November, I was assigned the hypnotist show. [It was] at least a two-month process, especially the communication back and forth," Quintero said.
Samantha Schindler, ASCLU Programs Board director, said the hypnotist show had a budget of $5,000 and was decided at ASCLUG's spring retreat.
"We had a spring retreat for the new board…People said they loved the hypnotist show. After that, we planned budgets and assigned it," Schindler said.
Quintero said the event went under budget, only spending about $3,200.
The next ASCLUG program will be the Valentine's Day '50s Bash  Feb. 14 in Overton Hall starting at 6 p.m.
Manuel Lira
Reporter