Showing Solidarity with DREAMers
February 27, 2018|28 Views
Yvonne Wilber, head of undergraduate instruction and outreach at California Lutheran University's Pearson Library, has been working on a butterfly mural on the soundproof wall of the Gallegly Center.
"The butterfly was placed there as an act of solidarity and as a non-violent protest," Wilber said.
The creator of the original design for the monarch butterfly mural is Favianna Rodriguez, an Oakland-based activist and community organizer.
"Oftentimes, art and activism go hand in hand," Wilber said.
Wilber said Rodriguez had the piece copyrighted, but allows people to use it as long as they pay a small fee.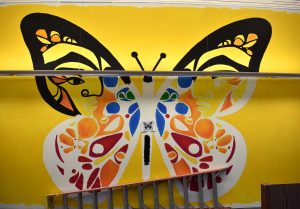 In an interview with the Huffington Post, Rodriguez said, "I chose the butterfly to represent the beauty of migration and the rights that living beings have to freely move."
Wilber said she did research on the butterfly and found out that Rodriguez had created the piece of art in response to a failed immigration policy. It represents open, demilitarized borders.
Wilber said she wanted to draw attention to what she sees as a duplicity on this campus by being a Hispanic Serving Institution and having a DREAMer ally program, but then building a monument to a politician who Wilber said she believes contradicts the values of this campus.
Junior Katie Shearer said she believes that the butterfly mural is a powerful statement to make on this campus and hopes that they are able to move it somewhere else, so that it will not be torn down once the Gallegly Center is completed.
Cynthia Duarte, director of the Center for Equality and Justice and a sociology professor, said she doesn't want the wall to go down now that the image is up.
"It's a breath of fresh air to the library," Duarte said. "We have hopes that the image can go up somewhere else, but I don't know what the future will hold for it."
The Board of Regents had to approve the mural. The mural was discussed between faculty involved with the CEJ, along with Wilber who said she thought the decision to place the mural on the soundproof wall was appropriate.
"It shows the frightening reality that our DREAMers are facing with the potential shutting down of our DACA program," Wilber said.
To Duarte, the monarch butterfly represents how important  migration is and all the benefits that come with having a diverse population.
"What a beautiful, cross-cultural world that we live in, because of migration,"  Duarte said.
Duarte said that artistically speaking, she doesn't believe anyone will complain about the mural because it is aesthetically pleasing. She also said that there has not been any political backlash.
Duarte said she hopes the painting will make students aware of the meaning of the butterfly in terms of migration.
"I hope DREAMers and students who come from immigrant families look at the mural and think that, symbolically, Cal Lutheran is saying that they value them and their perspectives," Duarte said.
Wilber said she hopes that the students see the mural and are reminded that change doesn't just come overnight.
Wilber said there was "a lot of commotion" in the fall caused by lack of transparency from the Board of Regents.
"I talked to some faculty about it, and it seemed like there was a lack of transparency even with them, but I feel like they especially weren't transparent with us [students]," Shearer said.
Shearer said she hopes that the Board of Regents have learned from this situation and will become more transparent with students about decisions they make. Shearer said she hopes that students challenge the administration and raise their voices when they don't agree with decisions made.
"With the building of the Gallegly Center going up at the same time as a DREAMer ally program is, it shows that deeper in our school, there is a lack of support towards the program,"  Wilber said.
According to the Center for Equality and Justice, the ally program comes with training on how to be an ally to DREAMers. 
"Becoming more visible in our support, it's one thing to be an ally, but in the social justice world, we're starting to change the conversation to being accomplices," said Duarte.
The Center for Equality and Justice web page said that to be an ally means to support these students, educate the community on DACA, promote inclusive environments and help advance our university's progress towards ending oppression, discrimination and harassment of DREAMers and other minorities.
Duarte said she is excited about the fellowships that the Gallegly Center will bring about. She said she hopes that the fellowships become fully funded, although she thinks the Gallegly Center is controversial as a physical space.
"Once the Gallegly Center goes up, it will be interesting to see how students react to it and whether they use it and if they will find interest in it," Duarte said.
As a university employee, Wilber said she was not against the Gallegly Center providing new resources and scholarships for the students. Wilber said she hopes that the students use this new resource to educate themselves, although she said she believes that it has caused the library to become politicized and violates the professional role that the library plays as a nonpartisan resource.
Wilber said she is looking forward to using the new space as a critical learning center for civic engagement.
Vianca Castaneda-Correa
Reporter