California Lutheran University's Black Student Union celebrated Black History Month with a showcase of African-American culture in its first SoulFest, which the student club hopes to make an annual event.
Neo-soul singer Niana Wiggins, spoken word performers and Roemello Ugale, a junior at Cal Lutheran who writes rap music, all performed at the SoulFest Friday, Feb. 23. Oxnard High School's jazz band also performed, and the Coastal West Community Choir from a church in Oxnard closed the night.
Marvin Rue, a junior at Cal Lutheran and marketing director for BSU, said there has been ongoing discussion regarding whether the club should plan large public events. He said BSU typically hosts a yearly Kwanzaa celebration, which has received a low turnout.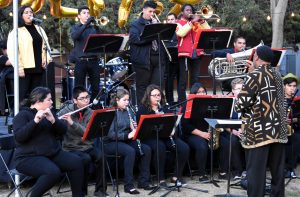 "I kind of was thinking that we should put on something that better showcases the modern-day African-American culture," Rue said.
Most attendees arrived around 5 p.m. when the food was served. The soul food dinner consisted of fried chicken, green beans, mac and cheese, cornbread, yams and cobbler.
People ate as a DJ played music followed by the jazz band. Despite cold weather, a group of people stayed clustered around the stage for performances by Ugale and the choir.
Sisters' Circle, a campus organization for African-American women that co-chair Aliyah Wimbish said began in the fall, volunteered at the event.
"It was created to create a safe space for us to talk about relevant issues that concern us that others might not be able to relate to and it also gives us unity and sistership," Wimbish said.
Wimbish said this was the first large event Sisters' Circle has been involved with.  The group discusses matters from professional development to politics, and has biweekly social outings.
Rue said people from Ventura County and Southern California were invited to the event through an email blast from Juanita Hall, senior director of Multicultural and International Student Services and assistant to the president for diversity and inclusion, to African-American fraternity and sorority members.
"It was actually harder to market to students than it was to the community, and I feel like that was partly because of our fears, maybe," Rue said.
Of all the performers, Rue most wanted the church to be present at the SoulFest given his struggle to find a nearby church similar to his at home.
"I feel like, often, a lot of people don't get to experience an African-American church service or see how it is," Rue said.
Dre Kelly, a sophomore at Cal Lutheran, and first-year Urael Blackshear were the hosts of the event.
Kelly said he hopes SoulFest will get BSU more involved with the university. He said they want to go beyond simply Black History Month and hold a presence on campus year-round.
BSU has weekly meetings Mondays at 6 p.m. in Nygreen 2.
,.and all are welcome.
"We really encourage other people from different cases to come to the meetings so that they can connect with us, because oftentimes in our daily lives, we never connect with people deeply who are not the same race as us or who really understand what it's like as a minority," Rue said.
Dakota Allen
News Editor