A future educator and her passion for dance
Nadine Abukhzam is a junior juggling responsibilities as an involved member on and off campus, with her interdisciplinary educational studies major and double minor in dance and psychology.
Abukhzam is California Lutheran University's dance team co-president, team captain and coach. She assists incoming freshmen with transitioning into college as a peer advisor and she is a member of Club Teach. Abukhzam is also one of the contestants in Competing for the Crown this year, and she will be  choreographing the event as well.
Abukhzam said she started dancing during her sophomore year in high school, and also held the title of president at her high school's dance team. Abukhzam said that she would dance for up to 30 hours a week during her senior year of high school, and she "didn't really have a life outside of dance team" but that she loved it.
As one of two dance team presidents at Cal Lutheran, Abukhzam takes on the role of team captain alongside Jennifer Anderson. With help from the team's co-captain and vice president Madison Kohn, the three of them lead and coach the team.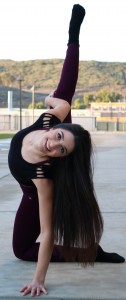 Abukhzam said that they plan the year together and make sure everything runs smoothly. They are responsible for running every practice, choreographing all of the team's dances, planning and registering for competitions and organizing all of their events. In addition to their responsibilities as team captains, they also dance on the team.
"I personally treat it as if it's an athletic team because I am very passionate about it," Abukhzam said. "It's not easy, but I care a lot about it, so it's worth it in the end."
Kohn talked about how she works with Abukhzam and how she leads the team as captain.
"There are so many factors that make a team great and Nadine is really good at pushing people to want to be better," Kohn said. "No matter what is going on in Nadine's life, she comes into the dance studio and gives it her all."
In addition to her commitment to the dance team on campus, Abukhzam also teaches dance at Retters Academy of Dance in Agoura Hills and at Aspen Elementary School in Thousand Oaks.
"Dance in general is one of the the most important things in [Abukhzam's] life and it radiates through everything she does," said Amy Craig, sophomore and head of social media for the dance team. "I couldn't be more proud to have her as a leader of our team."
At Aspen Elementary School, Abukhzam teaches dance to kindergarten, first and second grade students, but she is also doing field work for her teaching degree in a third grade classroom there too.
"I would love to teach third grade. I think third graders are awesome. They're at the age where they're mature enough to understand jokes but they're not too cool for school," Abukhzam said.
She said she hopes to work as both an academic teacher and dance teacher in the future.
For the past two years, Abukhzam has also been involved as a peer adviser for incoming freshmen at Cal Lutheran, helping them transition into university life. She said that her own experience as a freshman prompted her to become a peer advisor.
"I loved that I felt so welcomed my first year, so I wanted to spread that for the incoming students," Abukhzam said.  
Abukhzam is also a member of Club Teach on campus, which is aimed at those interested in a career in education. Abukhzam said that the members of the club are mostly teachers and education majors, and that they do a lot of charity work and different events to help better themselves.
"Nadine is one of the most dedicated people I know," Kohn said. "She inspires me everyday to be a better dancer and person."
Julia Westman
Reporter