Senior Leads With Competitive And Fun Spirit
Being the first person in her family to have any interest in playing tennis, senior Annette Sousa has used her unique characteristics to fuel her teams' successes and become a strong leader for the California Lutheran University women's tennis team.
Originally from Santa Maria, California and a graduate of Righetti High School, tennis has always been a large part of Sousa's early life and now here at Cal Lutheran.
"When I was four my parents were flipping through the channels on television and tennis was on and I told them that I want to do that, which was funny because nobody played tennis in our family, but it just looked so cool," Sousa said.
Growing up, Sousa said she was lucky enough to pursue tennis with the help of her family and was able to get into tournaments and matches at a young age.
Sousa said she has always brought a sense of compassion and a fun spirit to the tennis court on the multiple teams she's been on and has been able to replicate that here at Cal Lutheran.
"She has a great character and helps bring up the team morale. She is very team oriented and a team player. I always have a good time with Annette," said senior teammate Gianna Cupo. "Annette brings her humor and personality to our tennis team, with it being her senior year; she is also a leader and positive influence on our younger teammates, especially our freshmen." 
With this being her last year, Sousa made the record books, during her time with the Regals. Currently Sousa sits at number two for all-time singles wins in season with 14 and is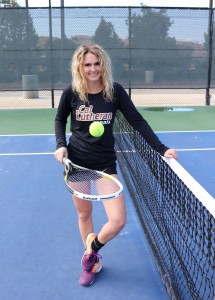 number 10 on the career double wins list with 23.
"When my coaches told me that I was second all time for season wins it was pretty cool, because I had never done anything like that before," Sousa said.
Although Head Coach Mike Gennette has only been the women's coach for one year he has served as the men's coach for the past 24 seasons. He now oversees both the men's and women's tennis teams. Gennette said he has still been able to see Sousa continue to grow as a person and a tennis player.
"She is the link to the past teams and has the most experience as a Regal," Gennette said.
A turning point for her career came during a match against the University of La Verne during her sophomore year. She had lost the first set 6-0. The team score was very close at that point so she  said she needed to figure out how to turn things around. She said she was able to calm down, and get focused and fight back to win that match in three sets.
Sousa said she continues to help her teammates in any way she can and always is looking for ways to be there for them.
Cupo said once graduation comes around she will miss the times she has had with Sousa on the team and look back on her first encounter with Sousa and their love for food that they share.
"When I first came to CLU, Annette and I bonded over Taco Bell very quickly. We both enjoy Taco Bell a lot, more than average people I would say. I'll always remember having our coach take us to Taco Bell after a match we won in Florida, our Florida trip was filled with lasting memories between Annette and me," Cupo said.
With graduation around the corner and her last tennis season coming to an end, Sousa said she is looking forward to her life after college and is happy she made the choice to come the Cal Lutheran. She said she has enjoyed the memories she has made.
"I'm going to miss the competitive aspect of tennis and the people you get to see every day, just the culture of it," Sousa said. "Also, Cal Lutheran brings the best out of people and I think all the people that I've met here and the tennis team, as well as the hardships, helped me to learn a whole lot about myself."
Dillon Brown
Reporter