No Sweat-er: Volunteering at Thrift Shop for Rescue Mission
The Ventura County Rescue Mission Thrift Store was held for anyone who wanted to help out the community or loves thrifting. On Saturday, Feb. 24, the sunny weather and sale items attracted Oxnard residents to the parking lot in front outside the store filled with racks of dresses, T-shirts, jackets, kids' clothing and many other items.
According to the Huffington Post, approximately 16 to 18 percent of Americans go thrift shopping because of the unique experience. Mother Katherine Taylor and daughter Harley Collins agree that not only are thrift stores cheap, but they hold the possibility of finding something awesome. They decided to stop by the thrift store Saturday morning when they saw all of the racks lined up off Oxnard Boulevard.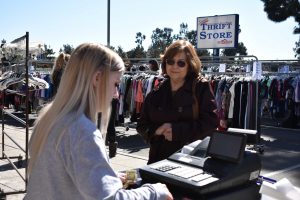 "I've been thrifting ever since I was a child," Taylor said. "Someone once told me that you can dress in all thrift clothes and look like a million dollars, as long as you're wearing a smile, and you just have to know what you're looking for. I'm teaching my daughter the ropes because there are so many good clothes and name brand items in thrift stores."
The proceeds of this event are going toward the Ventura County Rescue Mission. Collins was excited that her community was going to be positively affected by this.
"I hope it does some good for the community," Collins said. "And if you make it so it's more about the people, they're more likely to just do it instead of just giving to a random charity, because it's for them and hopefully it can help with whatever they need."
All clothing in the parking lot was on sale for 99 cents and if anything from those racks was purchased, then the customers received a smiley face stamp on their receipt to get an additional 10 percent off in the thrift store. The Ventura County Rescue Mission Thrift Store was spacious and well-stocked with rows of women's and men's shoes and clothing.
Multiple volunteers from the local community, including California Lutheran University students, were running the show Saturday. Christine Dauzat, a senior at Cal Lutheran, was happy to be there and proud to do her part in helping the community.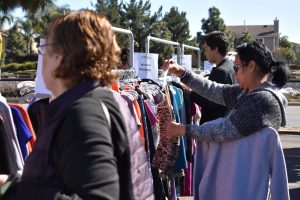 "I volunteered because of the dance multicultural club service project, and what I like about the event today is how all the leaders here are really nice and really passionate about helping the homeless," Dauzat said.
Many people from the Ventura County community came in good spirit, looking forward to finding new clothes at low prices and giving back to their community. Alex Cano, an Oxnard native, brought her daughter to the event. She picked a lot of items and said that she loves "the great art of recycling."
"I think it's great that the Rescue Mission does a lot of good stuff in the community, and I was driving by and right away I wanted to participate," Cano said.
Luisa Virgen
Reporter