Welcoming Spring, Goodness at Holi
California Lutheran University students gathered to celebrate the Holi Festival, an ancient Indian holiday marking the coming of spring, and learn about its origins.
"Holi is an ancient Hindu religious festival; it has been going on since ages. It is the festival of colors and signifies the victory of good over evil…Throw away the gloom of winter and celebrate the colors of spring," said Rushi Albildhok, an MBA student and Club India president.
Students played Holi by throwing gulal (powdered colors) and water balloons at each other. Attendants also danced, drew pictures blindfolded, got henna tattoos and ate catered food from the local restaurant Saffron Indian Cuisine.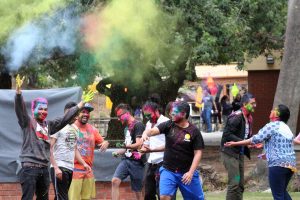 Albildhok said the Holi Festival has two parts: Holika Dahan and Rangwali Holi. Holika Dahan is celebrated in the evening with the burning of a bonfire, and Rangwali Holi is continued on the morning after. Cal Lutheran's Holi Festival event included Rangwali Holi, which involves throwing gulal and playing in water.
Albildhok said he grew up in India and has many memories from Holi. He said that the festival continues to grow throughout southern Asia and that he is eager to share it with Cal Lutheran.
Chintan Bhatt, an MBA student, volunteer for Club India and speaker at Cal Lutheran's Holi festival said that Holika Dahan started with a Hindu story about the invincible demon god Hiranyakashyap who was defeated by his son Prhalada, daughter Holika and Lord Vishnu. Bhatt also said that Rangwali Holi originated with a story about the Hindu god Krishna, who complained to his mother that people made fun of him for his blue skin color. His mother suggested that he smear his face with color.
"It's actually a festival that eliminates the boundaries which are set in our mind based on caste, creed, religion, color, gender and social status. When you come down to the streets with color-smeared faces, if you look at the other person, they all look alike…it gives you a sense of equality, and everyone comes together," Bhatt said.
Kuldbip Singh, the owner of Saffron Indian Cuisine, catered the Holi Festival at Cal Lutheran. Singh said that he enjoys sharing his culture and food with others.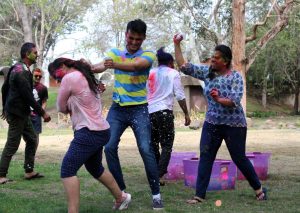 "[The Holi Festival] lets people know about our culture…we get together and share our food and culture. As a human being, you want to know other cultures and you want other people to know about your culture as well," Singh said.
Heather Hooker, junior marketing communication major and event lead, worked with Club India and Cal Lutheran's Multicultural Programs office to organize the event. Hooker said she wanted to maintain close conversation with Club India to attempt to most accurately represent the Holi festival and the culture around it.
"Every meeting we've had for Holi they've always been there to explain what's traditional and what happens [at Holi]," Hooker said.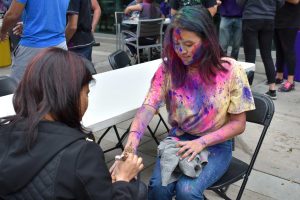 Jenn Adams, a junior studying business administration, attended the Holi Festival with her friends. Adams said she did not even know about the festival until her roommate, who studied abroad in India, told her about it.
Adams and her friends were covered in gulal. Adams said that while it was a bit cold and windy, "It's almost better because the wind pushes the color everywhere." Adams said that they were having a great time meeting new people and learning about Indian culture.
"I think it's just opening up my worldly view on cultures. I think it's important to step outside your worldly bubble…participating in a holiday like this gives you the opportunity to explore some of these different cultures that you've never explored before," Adams said.
Photo by Devynn Belter
Reporter