Protest for DACA Sends Message to Board of Regents
The Pearson Library at California Lutheran University hosted a presentation of the Library Butterfly Mural and DACA Support Unveiling discussing the meaning behind the newly painted mural on the Gallegly Center wall and the support system the university has for DACA recipients.
Head of Instruction and Outreach at the California Lutheran University library Yvonne Wilber, and Assistant Professor of Sociology Cynthia Duarte lead the presentation Monday, March 5.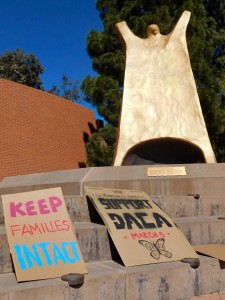 In her presentation, Wilber said the purpose of the art is to tie in efforts for DACA recipients, or DREAMers, on campus and on a national scale. She said the butterfly is representative of open borders and free migration.
"The whole point of this is to be disruptive of the norm," Wilber said. "I want our students to think critically on their understanding of the world and lead them into places that are uncomfortable."
Proceeding the presentation of the mural was a peaceful protest where Wilber lead attendants of the presentation from the library to the Enormous Luther statue while carrying signs displaying phrases that support DACA recipients.
"In a way, it was somewhat cathartic, because this has been a difficult time for me as an employee here," Wilber said. "I don't want to be viewed as someone who pities others, but recognizes their value and dignity, and in doing this I hope to make that apparent."
Wilber said that the protest was directed to the Cal Lutheran community as well as certain people who were not present at the protest, specifically the Board of Regents.
"The Board of Regents were the ones on campus who made the decision to put the Gallegly Center in the library," Wilber said.
She said that although Congressman Elton Gallegly is no longer holding a public office, he remains a public figure and is very active in the construction of the center.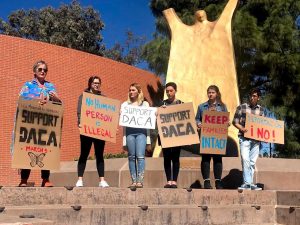 Wilber said that she hopes students will find their voice regarding areas of concern and that they should exercise their right to free speech because it can make for change.
Several members that attended the mural presentation and protest were faculty from Undergraduate Admissions and Financial Aid, including Undergraduate Admissions Counselor Diana Hernandez.
As someone who works with DREAMer students, Hernandez said that she sees the mural as support for DACA recipients.
"It is welcoming knowing it is a safe space for them and that they are welcome and wanted on campus," Hernandez said.
Hernandez said the mural reflects Cal Lutheran's mission to develop students to be global citizens. She said the mural would encourage DREAMers to come to Cal Lutheran knowing they are accepted and supported.
"The incoming class of dreamer students seem to be increasing," Hernandez said. "I think it's also word of mouth. I think that students tell others at home that this is a safe space and you have a lot of support and love around you."
One student who attended the presentation and protest was graduating senior and sociology major Athanasia Platis. Platis said she supports DREAMers and DACA recipients and that she is upset with the current government situation.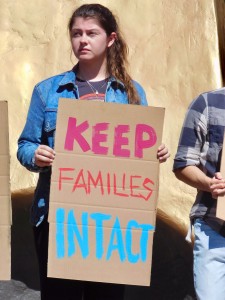 "I am the child of immigrants, and with my religion and my values, it's very at odds with what's happening," Platis said.
Platis said that she hopes the library mural and protest politicizes the library by placing it on the side of DACA recipients.
"I want the library to be a sanctuary and they wrecked it when they put in the office, and the fact that they are making it after the model of [Gallegly's] office makes it a partisan building," Platis said. "Cal Lutheran already politicized it when the library started the construction of a political building, even when students protested it."
Platis said the visual representation of the mural is making things visible and that it reflects how people at Cal Lutheran support DREAMers.
"I'm already a supporter but I'm even more so now," Platis said. "I want the mural to stay up and I want people to know about it."
Platis said she wants people at Cal Lutheran to be educated and informed so they have some idea of what is going on at the university, whether they are for it or against it.
Ashley Fisher
Reporter