Traveling and living life out of a 19-inch suitcase
The office of political science professor Michael Brint feels like a small home as it holds the last of his personal belongings. Two and a half years ago, Brint and his wife came to the decision that they would sell all of their belongings and be free to travel more.
Brint said that he believes a lot of today's self-worth in contemporary America is based on one's social value and their status.
"I realized that it was not all that important; what is important are not the world of things but the world of people and the relationships I have. So, my wife and I sold everything and we gave everything away," Brint said.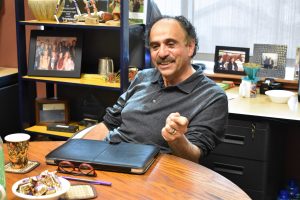 Even while teaching, Brint is able to travel as the faculty director of California Lutheran University Oxford Study Abroad. Every fall semester, he takes 12 students to Balliol College at Oxford University, where they are able to visit locations like Oxford, Barcelona and Jerusalem.
Senior Libby Baumgartner and junior Amanda Souza said they were both very excited to have been part of the trip this past fall on its 10th anniversary. They described Brint as a very humble man who made an impact on their lives.
Brint's wife, Sue, also joined them on the trip and the students, including Souza and Baumgartner, felt that she helped them feel comfortable. Brint said he enjoys traveling and spending as much time as possible with his wife.
"Sue would make scones and teas at the apartment when we would visit and they were really helpful with anything we needed," Souza said.
Brint said that he hopes that students gain confidence in themselves to open up in this world and to expand their imagination after participating in the Oxford program.
"I felt very scholarly and that I had reached my academic potential while at Oxford," Souza said. "I gained confidence in myself at an Oxford level and it was a growing experience for me."
Senior and former Oxford student Andres Elvira said in an email interview, "He also taught me a great deal on what it means to be a traveler versus a tourist; to embrace our time in each country and appreciate it for its rich history and traditions."
In the spring semester, Brint holds class within his office and likes to keep them relatively small. His classes are held around the only piece of furniture that Brint owns, his old dining room table. Brint and his wife have month-to-month living arrangements in Santa Monica to be close to his parents.
Once the spring semester is over, Brint and his wife will take their 19-inch suitcases and travel. Brint said he believes that over the span of the past two years they have lived in 25 different places.
"We've found friends in all these little spots that we tend to live in, so I feel like I am part of a community in the South of France and Oxford," Brint said.
He said they like to stay in a place for about a month or at least four days to truly get to know the area and engage with the community. Brint said that he believes travel really helps open up one's mind.
"It's an important thing to have to leave sometimes in order to find yourself," Brint said. "Eventually we'll find ourselves again."
Brint said his favorite memories are constantly changing as he visits places. His most recent favorite place is a farm outside of a tiny village in France.
"We like to walk around the canals and they have llamas and geese there and many things living in harmony," Brint said.
He said his wife had an apple with her one day and offered it to a llama who came running toward the gate along with a goose.
There are also places that Brint has not enjoyed during his travels. He visited Russia and what was formerly known as East Germany, although he hopes to visit Germany again and give it another shot.
"I had never longed to visit Russia. I had heard about St. Petersburg and since I read Russian novels I said, 'Oh, I guess I'll go,'" Brint said. "It's a quite depressing place, from my experiences and what I explored."  
Brint said he has no idea when the journey will end or when he will stop traveling. He has decided to spend his life pursuing the things he loves, instead of what society deems as a valuable use of time.
When Brint retires, he hopes to visit Antarctica since it's a place that Sue has been wanting to go. He said that he believes they will visit Iceland in the near future to see the Northern Lights.
Vianca Castaneda-Correa
Reporter