Victims, advocates discuss human trafficking
Human trafficking is the black market of human beings. It continues to grow throughout the world and in the United States.
On Wednesday, March 7, California Lutheran University's MyGenMyFight Club invited a panel of anti-human trafficking professionals to campus to spread awareness. The panel included human trafficking survivor Rachel Thomas, Detective Christopher Hicks, and ZOE International representative Jason Plunkett.
"[Human trafficking] is the second fastest growing crime in America, and the first fastest growing crime in the world." Thomas said.
Thomas works to educate people about the reality of human trafficking through Sowers Education Group as director and co-founder.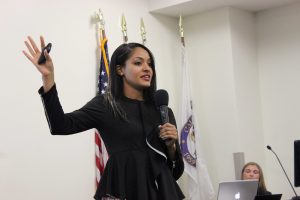 "Recognize human trafficking as your generation's fight… these are real victims, these are real lives and this is our fight," Thomas said.
Thomas said she grew up in Pasadena, California with a great family and was studying to be a teacher in college when she was approached by a man in a suit who claimed to be a modeling agent. She said she was cautious. She told her parents whenever she met with him, brought a male friend to the first meeting, and everything seemed professional.
Five weeks later, she was forced into human trafficking. Thomas said the man got her personal information and threatened to come to her house and hurt her family if she didn't comply. She said that she was freed 10 months later by the police. Thomas said her story shows that human trafficking can happen to anyone.
Thomas said there are two types of human trafficking: sex and labor, but "they often overlap."
Thomas said there are three main types of "pimp tactics" and that it's important to know the signs to help prevent human trafficking. She said "Gorilla pimps" usually use force to overpower girls and female recruiters who befriend young women and invite them to parties, luring them into a trap. "Romeo pimps" try to romance younger girls and convince them to run away from home, and "CEO pimps" promise women successful careers in entertainment or business before forcing them into human trafficking.
"'Prostitute,' I used to say it all the time. I can't even say the word now without cringing. They're victims. They're survivors," Hicks said.
Hicks is a detective for the Los Angeles Human Trafficking Bureau, which started in  November 2015. Hicks said before 2015, prostitutes were considered suspects. He said now all minors are known as victims of human trafficking, as well as adults when there is fear or force involved. Hicks said since this new law and creation of the bureau, they have made great progress.
"Since we've started [the Human Trafficking Bureau] in November 2015, we've rescued 233 victims and we've made 1,041 arrests," Hicks said.
Plunkett said that it's important to both try to prevent human trafficking and to give dignity to its victims. Plunkett is the U.S. regional director for the nonprofit organization ZOE International, which partnered with the MyGenMyFight Club. The club and criminology capstone class raised $900 to donate to ZOE International and presented the check at the end of the panel.
"The goal of the event was to educate and spread awareness of human trafficking. It's a global issue, but it's also happening in our own backyard," said Brad Edens, a junior studying criminology and treasurer of MyGenMyFight.
Edens said he, other club officers and criminology professor Helen Lim helped organize the panel. Edens said he originally didn't know the extent of human trafficking, but after joining the MyGenMyFight Club and learning about the severity of it, he wanted to spread awareness. He said he hoped Cal Lutheran students could  "get a glimpse" of human trafficking and take the first step toward ending human trafficking.
"I hope we can all become informal agents that can combat human trafficking… and if you see something, say something," Edens said.
Devynn Belter
Reporter