Regals Bounce Back With Doubleheader Sweep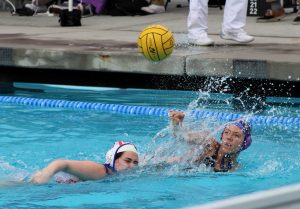 After suffering a non-conference loss to Macalester College on Friday, March 16, the California Lutheran University women's water polo team jumped back in the pool on Saturday and picked up a pair of wins at home against Whittier and Connecticut College.
Head Coach Craig Rond rested his starters for the first three quarters of Friday's game against the Macalester Scots, who snapped the Regals' four-game winning streak with their 6-4 road win on Friday.
"Hopefully we got a mental break for the first group and gave some good playing time to the second group," Rond said. "But we've talked about it all year: every girl is important to this team and every girl has to step up, so we're hoping that the second unit will really focus on the mental capacity of holding for four quarters."
Cal Lutheran junior attacker Mardell Ramirez scored the game's first goal on a post-up. Sophomore attacker Mackenzie Thomas followed that up with a goal in the back left corner of the net at the sixth position in a power play.
With just under four minutes in the second quarter, Macalester sophomore attacker Cara Mullery ignited the Scots offensively, scoring her first of two goals on a counterattack to make it a 2-1 game.
Cal Lutheran responded minutes later when freshman attacker Claire Justman scored her first career goal, giving the Regals a 3-1 lead at half.
Mullery and  Macalester attacker Lucille Moran combined for three goals in a nearly flawless third quarter in which the Scots shut out the Regals offense. Moran scored her third goal of the game in the fourth quarter with 5:45 to play, followed by a goal from sophomore attacker Oriana Galasso that extended Macalester's lead to 6-3 with 4:49 left.
With 1:48 left, junior utility Nikki Roed ended Cal Lutheran's scoring drought with a cross-cage goal into the net from the five-meter line to make it a 6-4 game. But Macalester's ball control strategy thwarted the Regals' comeback attempt, allowing them to hold on for a 6-4 win.
Macalester's aggressiveness on offense proved to be a major factor in the outcome of the game. Their 17 shot attempts far exceeded Cal Lutheran's seven.
"I think if we would have shot more maybe the ratio would have been better," Rond said. "I just thought that we kept making one or two more passes than we really needed."
Cal Lutheran bounced back with efficient team offense in Saturday's 11-4 win against Whittier, as seven Regals combined to score 11 goals on 12 shot attempts. Victoria Rose-Meek, Thomas, Christin Hirn and Roed each scored two goals to lead the team, while Megan Seeman, Kristi McGee and Nicole Guerriero added one goal apiece.
"I'd say our greatest strength offensively is our versatility," Hirn said. "Everyone on our offense is a threat – we had seven different girls score."
Tied 1-1 after the first quarter, the Regals opened up a lead in the second with goals from Roed, Seeman and McGee to make it 4-1 at half. Cal Lutheran's outpour of offense continued in the second half, as the violet and gold scored three goals in the third quarter and four more in the fourth.
Junior goalkeeper Bailey Meyer led the way defensively in the net, recording eleven saves in part one of the doubleheader.
"I thought we played really well and under control throughout the entire game," Rose-Meek said. "We communicated a lot as a team on defense which really helped to shut them down early in the game."
Cal Lutheran picked up right where they left off in part two of an 8-4 doubleheader win against the Connecticut College Camels. Remy Wilkison, Jayci Burrell and Jay Clerou scored goals that catapulted the Regals to an early 4-0 lead.
Wilkison alone outscored the Camels, posting a career high of five goals.
"We have definitely been working on shooting a lot during practice, so it's always nice when your hard work pays off," Wilkison said.
In the fourth quarter, Erin Cunefare added the eighth and final goal of the game, and freshman Miara Pipe picked up two saves after replacing Meyer as goalkeeper.
Meek acknowledged that winning both games of a back-to-back was important, but noted that leaving Saturday's doubleheader with an unblemished 5-0 record in conference play made the Whittier win the sweetest.
"This was an exciting win for us, and we look forward to working hard in practice in an effort to be 6-0 with our next SCIAC game," Rose-Meek said.
The Regals sit at 13-5 overall and 5-0 in Southern California Intercollegiate Athletic Conference. They will travel to Pasadena to play Caltech in another conference matchup Wednesday at 5 p.m.
Jake Gould
Reporter