Senior Crowned Mr. Kingsmen '18
The Preus-Brandt Forum was filled with attendees who came to watch the first ever Competing for the Crown mock pageant. On March 16, the Associated Students of California Lutheran University Government hosted what was previously named "Mr. Kingsmen."
This year, the pageant was opened up to all genders, allowing for the possibility of either a Mr. Kingsmen or Ms. Regal to be crowned.
Senior Sawyer Weddle was crowned the 2018 Mr. Kingsmen, making him the first winner in Competing for the Crown history.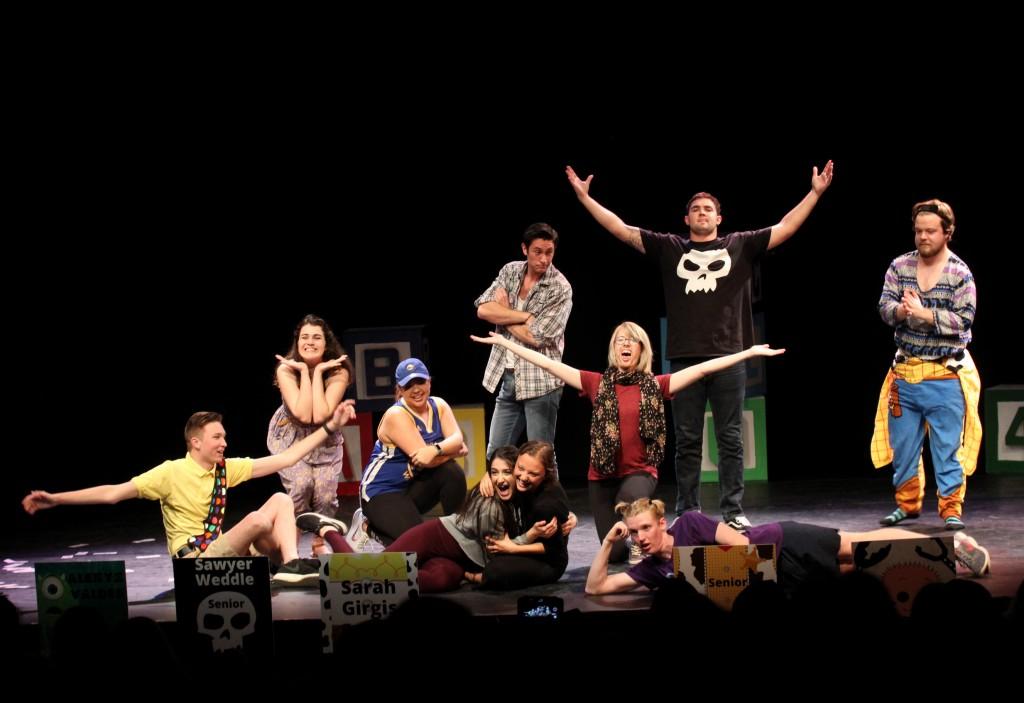 "I'm super flattered… I'm obviously not sad that I won, but that's not really what it was about," Weddle said.
Weddle said that he had a lot of fun, especially in the beginning of the show when the contestants were introduced and brought on stage by their escorts.
The pageant included talent and question and answer portions, with a round of voting after each segment. Audience members voted on their phones using a quick response code that they scanned with Snapchat. After the first round of voting, the contestants were narrowed down to five. After the second round, the winner and two runners-up were announced.
For the talent portion, Weddle performed a medley of popular songs on the piano. He ended with the song "You've Got a Friend in Me" from the film "Toy Story."
Weddle is a double major in biology and chemistry and played varsity basketball.
Other talents included a dance performance by junior Nadine Abukhzam, an air juggling act by senior Sarah Girgis and a rendition of the song "Despacito" with a rubber chicken by sophomore Austin Trapnell.
Senior and second runner-up Mark Madera did a dance routine to the song "Jai Ho" from "Slumdog Millionaire." After doing a zumba dance in last year's competition, Madera said he decided to do another dance routine this year.
"'Jai Ho' was stuck in my head one day and I just decided to go for it," Madera said.
Girgis said her favorite part was meeting new people and spending time with the students in ASCLUG. She decided to do her air juggling act after she was not allowed to show her talent of opening a wine bottle with a spoon, a fork and a shoe because of Cal Lutheran's dry campus policy.
The hour and a half long show also featured a surprise guest. Miss High Desert and recent Cal Lutheran graduate Katherine Reaves gave a few words about her experiences competing in pageants and performed an opera piece.
Junior Daniel Buonauro and senior Madison Kohn hosted the Disney Pixar-themed show. Buonauro, who competed in last year's Mr. Kingsmen, was excited to return as a host.
"Once you get through the show, it's like you went through it together, so it's kind of like a thing you'll have forever…just those memories with some really cool people," Buonauro said.
After months of planning, ASCLU Programs Board Senior Representative and event lead Victoria Lahney said she was happy to see the event come together.
"It's just super exciting seeing [the winners'] faces, seeing all those votes come in," Lahney said.
Contestants practiced routines during one to two hour rehearsals every Monday for the past two months. Lahney said she loved seeing the performances improve over time.
"They put in so much effort and there was a lot of laughing and a lot of fun, and they were all helping each other out," Lahney said.
At the end of the show, the contestants performed a group dance routine to the song "I Just Can't Wait to Be King" from "The Lion King," met with loud cheers from the audience.
Lahney said the event has people "get together and celebrate each other's strengths and just have a lot of fun while we're at it."
Brooke Stanley
Reporter