Former US treasury secretary talks immigration
Bay Buchanan, former United States treasurer, visited California Lutheran University to give a talk on immigration. The discussion was hosted by the Cal Lutheran's College Republicans Club and the Claire Boothe Luce Policy Institute.
Hannah Nandor, executive director of Cal Lutheran's College Republicans, said that the institute originally reached out to Nandor to see if they could help the club bring a speaker to campus.
The club then went on to look at the list of speakers that were available and also affordable to bring onto campus. They ultimately decided on Buchanan, said Nandor and Vice President of College Republicans Stone Hagman-Lawson.
"She seems like a great speaker and I'm sure she'll bring some great viewpoints to this campus," Nandor said.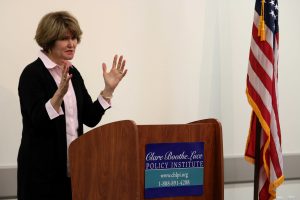 Elizabeth Campbell, who was their contact from CBLPI, highly recommended Buchanan, which Nandor factored in before speaking to the rest of the cabinet.
While the club did have to pay a fee, the costs were subsidized since CBLPI helped pay for most of the costs of having Buchanan speak.
On Thursday, March 15, twenty people showed up to hear Buchanan speak, including students such as Garrett Mueller, a political science major.
"I think that it is really important to hear from both sides, even though I'm ideologically liberal," Mueller said. "I want to gain more knowledge about the inner workings of politics."
The event started  with an introduction from Nandor and a brief background on what Buchanan has done during her career.
Buchanan served under President Ronald Reagan as the Treasurer of the United States. Buchanan was 32 years old when she was appointed, making her the youngest U.S. treasurer.
One of the first things that Buchanan mentioned was that even though the discussion was supposed to be on immigration, she was open to discussing and answering any questions.
"What we're looking to bring with Buchanan is just a different perspective," Nandor said. "I'm hoping that it opens up students' eyes to different opinions that people have."
For 30 minutes she discussed her point of view on various topics, and then for 15 minutes she went on to answer questions from the audience.
Buchanan said that Reagan helped grant amnesty to immigrants. His plan was to allow amnesty for those who came here, but only allowing those who immigrated legally to work. Three million out of the five million immigrants were granted amnesty.
"There was no effort to enforce the new law," Buchanan said. "People thought that all they would need was to get into the country and wait their turn until they were granted amnesty."
Buchanan has met different people across the country who have felt affected by the influx of immigration and talked about the fact that immigration is not a new issue, but something that America has always avoided talking about.
Buchanan said she believes people avoid talking about immigration because they're scared about what the discussion will bring and the names they may be called once their views on immigration are revealed.
"They're so scared of being called racist," Buchanan said.
Buchanan said the moment politicians see a drop in their ratings, they will drop the topic from their discussion.
Buchanan said 14 out of 15 people who immigrate to this country are low-skilled workers. Buchanan did not mention where she got these statistics from.
A member of the audience asked Buchanan about her thoughts on the refugee crisis. Buchanan responded with her belief that the refugee crisis is different from the issue of immigration.
"America will always be open to people who need help," Buchanan said. "We will help set them up."
Buchanan went on to talk about what being a leader is about and how the United States is in dire need of true leadership.
Buchanan said being a leader is about taking a stand for what you believe in and not backing down when you are challenged. She said she thinks that knowing the exceptions to one's beliefs is also important.
"I'm glad I was able to listen to Buchanan. She was very kind," Mueller said. "It was good to hear about the need for civility in this day and age."
The College Republicans Club meets every Thursday night at 7 p.m. in Swenson 110, where they sometimes have a local speaker come in and talk to members.
Vianca Castaneda-Correa
Reporter