Kingsmen Wrap Up Season With Win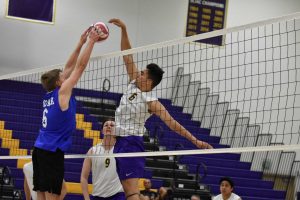 The season ended on a high note for the California Lutheran University Men's volleyball team. They won seven games in a row down the back stretch, which gave them a national ranking in Division III for the first time in program history.
The Kingsmen are ranked number 14th in the nation for Division III currently and finished with a 19-8 record overall, sealing their first winning season since its reintroduction to Cal Lutheran in 2016.
"The guys had a whole bunch of goals to start this year. They wanted to improve on our record from last year. We were under .500 last year and they wanted to have a .500 plus season and we accomplished that," said Head Coach Kevin Judd.
The season will end with a very slim chance of a playoff birth for the Kingsmen even after such a successful season because of how difficult it's on independent teams making the NCAA tournament.
Independent teams do not belong to a conference, which makes it harder for them to get in the tournament. In Cal Lutheran's case, they are ranked number three out of independent teams, behind University of California at Santa Cruz and Springfield College.
"You end on a high note and then it doesn't really matter how you end because it's over, because we don't have a conference and there is no independent championship," Judd said. "These guys would love an opportunity to have a championship to get into, to get to a NCAA tournament."
The Kingsmen continued to fight and go out and try to achieve the goals they had set all season in their last regular season game on April 5 against Moorpark College where they dominated the Raiders in three straight sets (25-19, 25-20, 25-15).
"I think we went out and had a lot of fun and took care of business against a junior college, we played within ourselves, played good defense and our offense came around and we played for each other which was the end goal of the season," said sophomore outside hitter Andrew Reina.
The Kingsmen started slow the first set down 5-3 but with Reina's offensive aggressiveness he was able to help the Kingsmen regain the lead with back to back kills. Reina led the team with nine kills while sophomore middle blocker Nick Christy helped on both ends with two block assists and two kills of his own.
"It's great to finish on a high based off of everything that happened this season, just happy to finish the season with a win and a seven game winning streak," Christy said.
The defense of the Kingsmen overwhelmed the Raiders of Moorpark College, who weren't able to get much going offensively and lead to a straight three-set sweep to end the season for Cal Lutheran.
The Kingsmen headed into next season will be looking to continue their success, only losing one senior.
"We have room to improve. We are scheduled to play 10 of the top 15 teams next year, so we're going for number one next year and a national championship," Reina said. 
Judd mentioned he was hoping to increase the team's strength of schedule and "take care of business" to have a better shot at making it to the tournament next season.
"We are going for that top spot and that's what we are going to keep going for," Christy said.
Dillon Brown
Reporter