Regals Earn First Conference Victory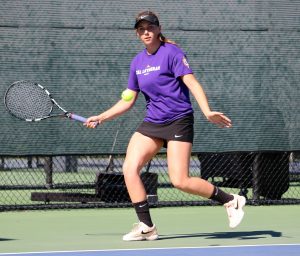 The California Lutheran University women's tennis team picked up their first Southern California Intercollegiate Athletic Conference win with a 6-3 victory over Occidental College at home Saturday.
The Regals won two out the first three doubles matches on the day. At the number one spot, senior Gianna Cupo and junior Christie Kurdys outpointed their opponents 8-3. Junior Sarah Seeman and senior Annette Sousa at the number two spot were able to double up their opponents score and win 8-4.  Senior Nicole Nuemann and Sophomore Jade Moore fell to the Tigers 3-8.
Going up 2-1 in doubles was a vital part of setting up success in singles, Seeman said.
"We came out strong, doubles were really important. It was really good for us to go up 2-1. It set the stage for singles and gave us confidence," Seeman said.
The Regals came out equally dominant in singles, winning four out of six. At the number one spot, Cupo swept her opponent and convincingly won both matches 6-0.
High energy and support from the crowd was something that energized the girls, Cupo said.
"There was definitely a lot of high energy, lots of cheering. I think the Oxy girls fought, but we were just one step ahead of them," Cupo said.
Seeman, at the number two spot, did not let her opponent score a single point and won both games 6-0.
"I'm starting to play better as the season goes along. I'm getting better and improving. I need to work on being more aggressive to beat the better players like Pomona and Claremont," Seeman said.
Sousa, at the number 4 spot, was able to win the first match 6-1 and the second match 6-0. At the number 5 spot, Neumann picked up a crucial win over her opponent 6-1 in both matches giving her a 2-0 victory. Kurys and Moore both lost to their opponents by close scores.
The Regals were able to bounce back and get in the win column after losing to Chapman University 7-2 the previous day. Chapman was able to win all three doubles matches. The Regals were able to pick up two singles wins. At the number three spot, Cupo won her singles match by a score of 6-0 and 4-1. Kurdys, at the number one spot, was able to beat her opponent 6-2 and 6-3.
Women's tennis is now 2-1 in their last three games. Assistant Coach Jerry Yu said a key part of continuing the success is staying fit.
"We still have to get fitter as the season goes on. We had back to back matches this week, you can tell we're getting fitter, but it's still not where we want to be," Yu said.
The Regals are currently in fifth place in the SCIAC. Cal Lutheran has a chance to move up in the standings in their last four games of the regular season. They play the University of Redlands next Friday,  currently sitting in third place. Staying together and focusing on the fundamentals are both things the team needs to do in order to finish off the season strong, Cupo said.
"It's all about the cheering and being one unit. That's what will help us keep pushing forward and beat the teams that we need to beat," Cupo said.
Manuel Lira
Reporter