Cal Lu Palooza Showcases Musical Talents
On April 8, California Lutheran University hosted Cal Lu Palooza music festival that brought Ventura County Sheriff officers to Kingsmen Park for noise complaints.
Freshmen Urael Blackshear, aka "UraelB," was one of the rappers who had the crowd cheering loudly during Cal Lu Palooza.
"I started by myself because it was a solo song but I brought two of my friends up who are in my music group RTR music. One is the producer Fats Beats and the other is TK," Blackshear said. "Fats Beats produced 'What's Up With That,' you can find it on Soundcloud at UraelB. "
During the rap "Game Over," Cal Lu Palooza staff cut the music during Blackshear's set due to a noise complaint from the Ventura County Sheriff's Office.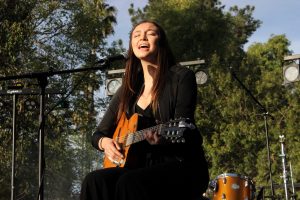 "I feel it in my soul when me and [TK] perform ["Game Over"] and I love working on it," Blackshear said. "It was a bad thing that they had to cut it for the sheriffs, but we still killed it and did our thing without the music because we love this."
Blackshear said "Game Over" was inspired by his upbringing.
"I know my family and everybody supporting me was out here so that was a good thing," Blackshear said. "They were rocking with me and the energy was up."
UraelB, TK, Fats Beats and Randy White Music will be performing at Chain Reaction in Anaheim April 21. Tickets can be bought for $12 by contacting Blackshear directly.
Local band Low Expectations also had their music cut by Cal Lu Palooza staff during the concert when they went over their set time.
The band members of Low Expectations are vocalist Lauren Peterson, drummer Terah Landy, guitarist Ozzy White and bassist Danica Wolf.
For their final song, Peterson threw candy into the crowd and began to perform their original song "Pop Rock Polly." Despite having their music cut out, Low Expectations continued to perform for the crowd as they sang along.
"They're in a rush, we get it, but we really wanted to play our original song that we just wrote for this," Peterson said.
Peterson said that the energy was great, and that Low Expectations would like to perform again next year if they are invited back.
Student Caleb Solberg helped coordinate the event this year as director of iCLU Radio.
"Caleb did a really amazing job putting this on. It's hard to put an event like this together so props to iCLU Radio and Caleb," Wolf said.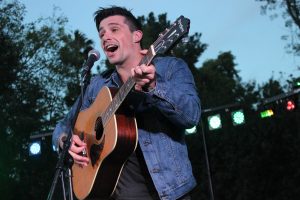 Wolf said you can watch Low Expectations perform at local venues and some of the band members are a part of Live Music Ventura County. More information can be found at livemusicventuracounty.com.
Permission to Fly animated the crowd with their unique sound known as "ska" and large musical presence.
"There's a style of music [ska] that got really popular in Jamaica and it got brought over to America. Our version of ska is basically like punk, jazz, elements of Latin and reggae," said first-year Christer Schmidt, who plays the tenor saxophone.
Bass guitarist and Cal Lutheran freshman Lucas Helfman said that Permission to Fly's sound developed with the creation of the band. He said two band members are from Cal Lutheran, three are still in high school, and one, Nicholas Burch, is a student at Moorpark College.
Burch is the vocalist and songwriter of Permission to Fly. He said that he wrote all the songs on his own last summer.
The group performed a cover of Dick Dale's "Miserlou" and three of Burch's original songs.
Permission to Fly will be performing April 20 at Moorpark College and at Discovery Ventura and White Oak Music & Art in Van Nuys in the future.
Brandy Alonzo-Mayland
Reporter