Student Startup "FamWe" Enters Texas Venture Competition
What started as an assignment for an Entrepreneurship 101 class has led senior Evan Brandt to the international Values and Ventures Business Plan Competition at Texas Christian University. From April 5-7, Brandt traveled to Fort Worth, Texas to pitch his business plan for FamWe, an app that helps families connect and communicate.
The esteemed annual competition invites students with ideas that can make a profit and benefit their environments or communities. Competing for over $60,000 in cash prizes, the applicants must present their businesses, products or services to a panel of judges over multiple rounds. This is the second year in a row that a student-led startup from California Lutheran University has competed.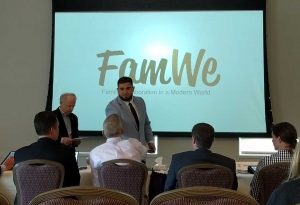 Brandt was able to attend the competition with the help of a $300,000 grant given by entrepreneur Dave Gross and his wife, Cal Lutheran alumna Dawn Gross.
Senior Molly Strawn and Hub101 Community Manager Greg Monterrosa helped Brandt prepare his presentation in the days leading up to the competition. They also attended the competition with him to support and advise.
"We're Team CalLu. We come and we give it our all and I'm excited to be part of that," Strawn said.
Monterrosa first met Brandt in Hub101 before hiring him on as a Hub101 intern. Monterrosa said he has acted as an adviser for Brandt and his startup company.
"I've been able to see FamWe go through its different stages, from idea…to launching, so I've felt really blessed to be a part of his process and encourage him and connect him with the resources and mentors that he needs," Monterrosa said.
Brandt began his startup in his sophomore entrepreneurship class when his professor, Mike Panesis, assigned his students to come up with their own business idea. Brandt said he thought of the idea in response to his own childhood experiences.
"My family was extremely busy. My parents put together this pretty complicated system of trying to keep track of everything and it essentially just created more havoc," Brandt said. "That was just a pain that I definitely felt growing up and so I saw an opportunity to solve those issues using software."
The application officially launched on the Apple Inc. app store Oct. 4, 2017.
Since its conception, FamWe (previously called Chor Stor) has evolved from a goals and tasks platform within family households to a platform where families can communicate among themselves as well as with outside instructors (ie. tutors, music teachers, coaches and babysitters).
Panesis, executive director of the Center for Entrepreneurship, has been able to see FamWe grow from an idea to a fully functioning application. He said that in the three years that he's known Brandt, he has witnessed his diligence and perseverance as an entrepreneur.
"I think he's a good example of what we expect a Cal Lutheran student to be. He's entrepreneurial at heart but he wants to make a difference in the world," Panesis said.
Brandt has already competed in other student startup competitions, including Cal Lutheran's New Venture Competition and the University of California's New Venture Seed Competition. In 2017, he won third place and People's Choice Award in Cal Lutheran's New Venture Competition.
The TCU Values and Ventures Business Competition is unique because of its emphasis on value-centered enterprises. Panesis said that he thinks TCU has done well at "balancing entrepreneurship with social responsibility."
Strawn said that she is happy to have supported Brandt during the competition and she is "immensely proud of him."
"I think that this competition is kind of just the next step in really proving what Cal Lutheran is capable of," Strawn said.
Brooke Stanley
Reporter