CLU alumnus with Asperger's syndrome has one-man show "Magic 8 Ball"
George Steeves is done running. He is done running from who he is and is instead embracing it. He is a 29-year-old actor, singer, artist and person on the autism spectrum.
In 2016, Steeves wrote and began acting in a one-man show called "Magic 8 Ball (My Life with Asperger's)." The show is meant to be what Steeves calls "edutainment," meant to both entertain and educate people about autism spectrum disorder and Asperger's syndrome.
According to the National Institute of Neurological Disorders, Asperger's is a "developmental disorder on the autism spectrum that is characterized by a greater or lesser degree of impairment in language and communication skills, as well as repetitive or restrictive patterns of thought and behavior."
Symptoms may include impulsivity, repetitive movements, social isolation, anger, anxiety and depression.
Steeves was diagnosed with Asperger's syndrome at the age of 11. From childhood into his adult years, he said he has experienced isolation, rejection and depression. In doing this show, he said he hopes that more people will gain a better understanding of what it means to be on the autism spectrum.
"We are still people just like you," Steeves said. "Yes, we may be wired differently…but at the end of the day, we just still want to be loved and understood and accepted for who we are.
Since "Magic 8 Ball" premiered, Steeves has won three Fringe Awards at the 2017 Hollywood Fringe Festival as well as "Best One Person Comedy Show" at the 2017 North Hollywood Fringe Festival Awards. After performing at festivals in Los Angeles, he is now bringing his show to the home of his alma mater in Thousand Oaks, CA.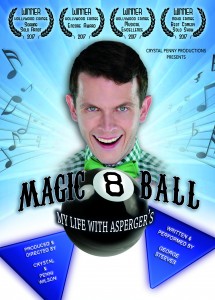 Steeves graduated from California Lutheran University in 2012 with a major in communication and a minor in theater arts. During his time at Cal Lutheran, he performed in several plays including "Into the Woods" and "Pericles." He also sang in the choir.
After he graduated, Steeves studied improvisation at The Groundlings in Los Angeles. In 2016, when he was not invited to return to the school, he considered moving away from Los Angeles. It was then that he decided to pursue his idea for a one-man show.
Inspired by the one-woman show that led his idol Whoopi Goldberg to Broadway, Steeves began the process of bringing his own show to life. He met with directors and began developing characters that he might incorporate into the production. He planned to create a light-hearted performance where he could display these different characters until one director suggested that he take a different direction.
"He was like, 'Wait a minute, you have Asperger's? That's your show,'" Steeves recalled.
So, Steeves created a show that revolved around his own experiences and life with Asperger's. He wanted his show to speak to not only those with autism, but also to parents of children with autism, LGBT Youth and Adults and everyday people who want to learn more. He said that creating and performing the show became a therapeutic process for him.
"The purpose became bigger than myself," Steeves said. "I did this show to not only heal myself but in hopes that I would heal and inspire others."
Gordon Durich is a friend of Steeves' who first suggested that he bring his show to Thousand Oaks. He is an actor, producer and writer with experience working in the field of mental health. He said that he thinks Steeves' show conveys an important message that needs to be shared.
"I felt proud of him for having the guts to actually do a show that dealt with such a personal and controversial topic," Durich said. "He's really laying his whole identity and self on the line for people to see, so it's very raw.
Although Steeves admitted that performances can be mentally and emotionally exhausting, he finds motivation in the fact that his show can provide representation for the autism community. More specifically, he hopes to be a voice for those on the spectrum who don't have one.
"There are so many kids on the spectrum who will never be able to speak, and I can't imagine being a father or a mother and never hearing your own child call you 'mommy' or 'daddy,'" Steeves said. "I stand here to speak for those kids. I sing for those kids. I live my dreams for those kids. Every voice deserves to be heard and I will speak for those who cannot speak.
Penni Wilson and her sister Crystal Wilson co-directed and co-produced "Magic 8 Ball." It was their first time directing a play and Steeves approached them just two months before it was premiering at the Hollywood Fringe Festival. Though she said she was hesitant at first, Penni Wilson said she is happy that she took the risk to help him bring his idea to life.
"We just grew to love the work and love the piece," Penni Wilson said. "We made magic together."
"Magic 8 Ball" will be performed internationally at the Edinburgh Fringe Festival in Scotland this August.
Performances in Thousand Oaks will be held at the Hillcrest Center for the Arts on Saturday, April 14 at 7 p.m. and Sunday, April 15 at 2 p.m. Tickets are available online here.
Brooke Stanley
Reporter