Karie Portillo Guerra '17 is no stranger to a busy schedule. As a field representative for Assemblymember Jacqui Irwin at the California State Assembly, Guerra spends her days attending important meetings, planning events and connecting with the Ventura County community. However, no day is the same. 
Guerra said her busy schedule and active involvement in the community was only a natural response after joining California Lutheran Univerisity's iCLU Radio and Her Campus club for two consecutive years.
As the publicity director for Her Campus and the host of a radio show, "Get Karied Away," Guerra learned how to balance a busy schedule while maintaining close relationships with friends and family.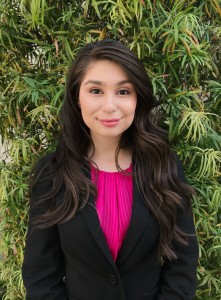 Junior Kerry Sanchez describes Guerra as the perfect spokeswoman for Cal Lutheran. Guerra's school spirit and involvement on campus allowed her and Sanchez to become friends through Her Campus. 
"I worked with Karie to plan many Her Campus events. She's always there to lend a hand and her outgoing and optimistic spirit is always something I've looked up to," Sanchez said. 
As an official Cal Lutheran alumni, Guerra graduated in May 2017 with a double major in marketing communication and communication with an emphasis in television and film production. She is one of the few people who graduated with a double communication major.
Junior Kira Wiman is a close friend to Guerra and said she admires her passion and ability to persevere and accomplish any task.
"I have seen Karie work hard throughout Ventura College to graduate with a bachelors from CLU. But during all that, she worked long hours, was publicity director for Her Campus, had her own hour on iCLU radio and still managed to go to concerts and Disneyland to have fun. Even through the highs and lows, she got through it, made a name for herself and is a great role model," Wiman said.
Life is a lot different for Guerra after graduating from Cal Lutheran. Guerra said it was a huge adjustment because she is more focused on her career  more than academic studies.
"It's different in the sense that I now have a classic 9 to 5 office job. But I'm grateful for the opportunity to explore the Ventura County community, the organizations, the work they do and the people they represent," Guerra said.
Guerra said her job responsibilities include being the eyes and ears for the assemblymember when she is up at the capitol in Sacramento working on legislation.
"I communicate the needs of the community, report back to her on what we hear and learn and update her on what is happening in her district while she's in Sacramento," Guerra said.
Guerra's job allows her to embrace her passions alongside her career. As the lead for women's issues, she tackles issues such as equal pay, women's reproductive rights and the advancement of women in leadership careers like STEM.
"I am strongly passionate about equal representation and having a women's voice at the table. I think women working with other women and building each other up is so important. Women tend to be more competitive with each other, but when we work together so much more good is brought into the world," Guerra said.
Wiman said Guerra's passion for causes she believes in and the effort she puts towards that passion is inspiring.
Cal Lutheran alumna, Kristiann Jones said she admires Guerra's passion for every project she can get her hands on.
"She puts her whole heart into everything she does. She is also a great friend and will make an effort in the friendship even if she's super busy. She deeply cares about everything which isn't a trait everyone possesses," Jones said.
Guerra said she has already achieved one of her goals this year by raising awareness about human trafficking in the Ventura County community. Guerra said this cause hits home because her family comes from a third world country where human trafficking is prevalent. The event was held at Cal Lutheran and featured a film screening and panel.
"I planned this event from top to bottom and to see it come to fruition, inform the masses and have it be a success was a major accomplishment because people really did not know about how human trafficking directly affects the local community," Guerra said.
Looking forward, Guerra said she is eager to do more work for the advancement of women in leadership positions and education. She would love to travel more and get back into radio.
Kendra Salo
Reporter