Kahovec Runs His Way To CLU Record Books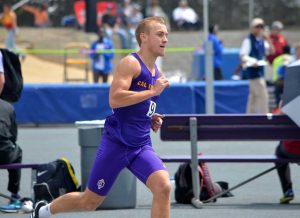 Timmy Kahovec, a senior at California Lutheran University, has achieved much success as an athlete for the Kingsmen cross country and track and field teams. Kahovec started his running career in his senior year of high school, but he has already broken a school record and has been a top placer in many events throughout his college career. 
Kahovec grew up playing football and baseball. He said he watched his older brother and sister compete for the Cal Lutheran cross country and track teams which made him start to fall in love with the sport.
"I played football and baseball my whole life and love them, so getting to play baseball every summer took my mind off the grind of the year-long running season. It was like pressing a reset button and allowed me to stay motivated and focused throughout the school year. But my sister taught me some extra things to do like how to keep track of health and keep my body rested," Kahovec said.
When Kahovec graduated high school, he said he moved from California to Kansas to live with his brother and worked at a smoothie bar called Smoothie King. He also worked out and ran everyday which made him miss being on a team.
"I did not have a car and riding my bike in the Kansas snow was too cold and after four months, I moved back to California to run track and cross country and be in the warmer weather," Kahovec said.
As soon as Kahovec started at Cal Lutheran, he didn't waste any time making an impact for the Kingsmen. His first year competing for the Cal Lutheran track and field team, he clocked a time of 1:56.41 to place 10th overall in the 800m at the Southern California Intercollegiate Athletic Conference Championships. He also appeared in all six meets for the Kingsmen cross country team. 
"When I first joined, I was nervous. But after spending four years with some of the same guys it's been great. I will have these relationships for a lifetime. I just love being here and spending time with my teammates," Kahovec said. 
Another great accomplishment that Kahovec has had while running for the Kingsmen is running a time of 8:50.13 in the 3000m at the Rossi Relays Invitational hosted by Claremont-Mudd-Scripps in February. His time broke the record books and is now first in Cal Lutheran history for that event.
Kahovec said that it's because of his great relationship with the team that has allowed him to run better.
"Timmy and I know exactly how to push one another. When fatigue begins to set in, Timmy knows to call me out on my running form, since I rely on a smooth stride to keep my endurance in check, which gets me through a race or tough workout," said Christian Rider, roomate and teammate of Kahovec. "And when I see Timmy could use some encouragement, I remind him of a lesson that he taught me when we first started running together, that one must remain mentally stronger than their competitors if one is to overcome the pain and beat them in a race." 
Kahovec has most recently been selected as the SCIAC athlete of the week. He currently sits in second on the Cal Lutheran top-10 list for the 800m run with a time of 1:52.25. 
"My goal for the end of this season is obviously to make nationals. But really I just love being here and spending time with my teammates," Kahovec said. 
Marissa McCardell
Reporter
* The photo credit was corrected on 4/27/18 at 9:27 a.m.