Kingsmen Sweep On Senior Day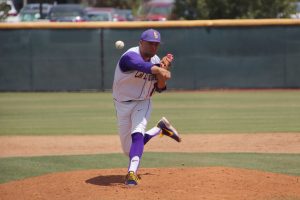 The California Lutheran University baseball team was able to continue their winning ways, taking both games of a double header against the Caltech Beavers April 21 on Senior Day.
The Kingsmen kept their postseason tournament hopes alive by dominating the Beavers 13-0 and 14-4 in games one and two. The Kingsmen now sit with a 21-16 overall record and 10-11 in the Southern California Intercollegiate Athletic Conference.
"It is great to put up a big win for them. We are playing for teammates and our families, and this is a collective win for everyone who has been supporting us and definitely for the seniors," said sophomore center fielder Cortez Espinoza.
The Kingsmen were able to use the 10-run rule in both games, as game one ended in seven innings and game two ended in eight innings. The doubleheader wins locked up a winning season for Cal Lutheran baseball team to make it 25 consecutive seasons where they have achieved this feat.
Bats were cooking for the Kingsmen who were able to gather up 27 runs in total over the two games and managed to round up 31 total hits with twelve being extra base hits. The Kingsmen also had nine doubles on the day while Espinoza added his six RBIs. The Kingsmen also added one homerun thanks to a two-run shot by junior first basemen Weston Clark.
"We always want to come out swinging, doesn't mean it is going to happen every time, but it was great that we did get the chance to swing the bat a little bit and score a lot of runs and do a good job like we are supposed to," said Head Coach  Marty Slimak.
The day belonged to the seniors as every senior on the team was able to get playing time and contribute to the team's success. Senior players Max Weinstein, Derek Galvin and Nate Wehner were some key standouts.
"We kind of try to do that. We make sure all the seniors play at least one game on that field," Slimak said.
Weinstein was red hot from the plate with his three hits and five RBIs on the day. Galvin started on the mound in game one throwing 4.0 innings in game one and struck out five batters. Wehner pushed to 6.0 innings and struck out seven, as both received wins for efforts.
With his start in game two, Wehner broke the record for most pitching appearances in Cal Lutheran history with 77 game appearances.
"It was awesome. It is great to have all the families and friends out here, especially the teammates. You play so long with these guys and they become your family, so it's nice to give them a good send off," Weinstein said.
The Kingsmen look to continue their hot bats and keep up the winning streak to be able to make into the postseason tournament. With only three games left the Kingsmen will have to win out and have a little help for them to make it in.
Currently they sit at the seventh spot, while only the top four teams in conference make to the postseason tournament.
"As long as we take care of what we need to take care of and not worry about what everyone else in the SCIAC is doing, I think we will be just fine," Weinstein said.
Cal Lutheran will look ahead to Friday, April 27 when they take on Claremont-Mudd-Scripps at home to keep the winning streak going.
Dillon Brown
Reporter