Kingsmen Defeat Lutes in Season Opener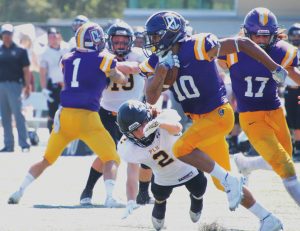 With the new school year, comes a new season for the Kingsmen football program. The Kingsmen opened their 2018 season with a 24-8 victory against the Pacific Lutheran University Lutes on Saturday, Sept. 10.
"This is one of the closest and most focused groups since 2011," Head Coach Ben McEnroe said.
With a focused team came a focused defense that held the Lutes to eight points for the game. A recovered fumble by sophomore defensive lineman Caleb Casimere and an interception by junior linebacker Ethan Pulley, were both returned for touchdowns, leading the Cal Lutheran defense to outscore their offense, 14-10.
"We are not a very experienced group," McEnroe said. "We are playing two freshmen, a sophomore and junior in the secondary and one senior linebacker."
Senior starting quarterback Hayden Smith made his first collegiate start and after the game said he was "a little nervous right off the bat, [but] once we came out for the second half, everything was clear."
Although the defense was the highlight for the Kingsmen, the offense had a bright spot as well. With a unique situation at the running back position, the Kingsmen ran through a trio of backs, including senior Chris Anderson, junior Jabar Byrd and senior Kayden Clements.
"It is very unique," Clements said. "All three of us got something that we bring to the table…and that's dangerous."
The Kingsmen will rely heavily on the running back core to continue to produce results. Against the Lutes, the three running backs totaled more than three-quarters of the team's total rushing yards.
Despite the team's lack of experience, many of the players believe that the team's chemistry will help drive them to the top.
"We have a whole team mentality. The way that we play for each other and together is something we haven't seen in the three years I have been here,"  Smith said.
With strong team chemistry and potential across the sideline, the Kingsmen look to improve their record as they compete for the Southern California Intercollegiate Athletic Conference title once again.
"We really do have a championship mindset…we've got that togetherness and that bond," Clements said.
After their victory over the Lutes,  the team now prepares to head to Oregon to face the Pacific University Boxers.
"It's now the 24-hour rule," Pulley said. "We are going to enjoy this win and then come tomorrow, it's on to the next one."
Joseph Zimmerly 
Reporter
 Editor's note: This article was corrected to add the full name of senior Kayden Clements.