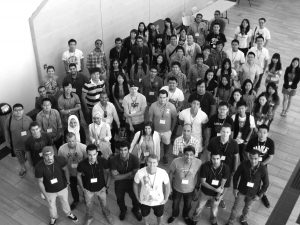 This semester has seen a record increase in students at CLU, with over 100 more students than in previous years.
The graduate program has primarily been affected by this recent increase. There has been an increase in international students, including many from Saudi Arabia.
Saudi students now make up 100 of the 1,400 graduate students here at California Lutheran University, according to the senior operations coordinator of graduate admissions, Kathi Spaulding.
Many things bring Saudi Arabians to CLU in order to further their education. The weather and location convince some, but for others it's word of mouth.
Yasser Faqih wound up at the ELS center here on campus by chance and then decided to apply to CLU because he liked the city. Faqih, a graduate student, is the President of the Saudi Student Club here at CLU.
The club organizes cultural events for CLU and throughout Thousand Oaks. He is here as part of the King Abdullah Scholarship Program, a government program for Saudi students studying abroad.
The program provides full financial support not only for Saudi students, but also for their families.
"My daughter, she is two years old… and she [was] born here in Thousand Oaks," said Faqih. His wife attends the ELS center on campus and the two have raised their daughter here while they attend school under the King Abdullah Scholarship.
"Last three months, we were in Saudi Arabia. It is different for my daughter," said Faqih. "There she is playing every day with other kids in our family. Here, you can say if she is not in the day care center it is difficult to meet other kids."
There are around 20 families here under the King Abdullah Scholarship, according to Faqih.  He works hard to form a tight-knit support group for Saudi students and their families through the Saudi Student Club.
Saudi undergraduates also had their own take on CLU.
"You feel home," said Abdulrahman Al-Bassam about going to CLU. Al-Bassam experienced very little culture shock when he came to CLU. What he found to be the most troubling was the language barrier.
"Not everything we say in Arabic can be directly translated to English," said Albassam. "People would be like dah… What is that guy talking about?"
Now he speaks English fluently with almost no trace of a Saudi accent.
Ahad Bubshait, a freshman bioengineering major, had a bit of trepidation when she first came to CLU.
"At first… I was like: Why did I get here? Because they were like, all of them are Americans, and I thought that there weren't many international students. I felt like, I want to go home!" said Bubshait, "And then people started to talk to me and I met new students and I was like OK, this is good."
She soon felt welcomed here, enjoying the new friends she made and the way she was treated by the teachers and students.
The Saudi Student Club works together with Multicultural and International Student Programs, as well as professors to have Saudi Students enjoy their stay.
"Linda, she is very welcoming. She treats us in a very good way," said Al-Bassam in reference to Boberg.
Even the huge differences between Saudi and American cultures were overcome with almost none of the culture shock you might expect the Saudi students to encounter.
"About culture shock, you can adjust yourself about culture shock," said Faqih. "We have big difference between these two cultures, but not shock."
"At first I didn't expect that people would be like this with me, because at first I'm from other country, and from other religion and here at CLU it is a Christian university so I really freaked out," said Bubshait.
"I had that feeling that it wouldn't be good to go there, because it's Christian and I'm Muslim. Then when I came here it was like wow! I love it here. I thank god I'm here, you know, and not in other school," said Bubshait.
Joe Wood
Staff Writer
Published Sept. 19, 2012