Local Media, Community Talk Trust
Media professionals, corporate sponsors and Ventura County community members gathered at the Ronald Reagan Presidential Library in Simi Valley on Friday, Sept. 14 to discuss the state of local media.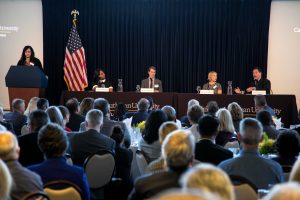 Many figureheads of the local media landscape joined the breakfast as panelists, including KCBS/KCAL9  Anchor and Reporter Amy Johnson, The Acorn Newspapers Editor John Loesing, KCLU Radio News Director Lance Orozco and Ventura County Star News Director and Senior Editor Darrin Peschka. General Manager of KCLU Mary Olson moderated the discussion.
"This was a great opportunity for us to remind them that we are here to do a job that we believe in, that we are doing our best, we are being honest, that we are checking our facts and we are giving them true news," Johnson said.
The conference marks 17 years of the California Lutheran University Corporate Leaders Breakfast series and kicks off the first breakfast of the 2018-2019 year. The library has hosted this event for 10 years.
"It's important for people to understand how media works, and it helps members of the community make a better, more informed decision about the accuracy of what they are getting," Orozco said.
In the open discussion portion of the event, Johnson said that social media can help and hurt public trust and that trying to rush publication of stories causes mistakes, while slowing down can provide more accuracy.
"I think it's important to remind viewers that our goal is always to be accurate, to be fair and balanced, and that the news is real," Johnson said.
Loesing said that the Thousand Oaks Acorn posts breaking news online, even though it has historically been a weekly newspaper.
Peschka said that the way news is delivered has changed to a more digital-centric platform.
"[We're] always thinking digital first," Peschka said. "The smart phone changed the industry completely."
Olson said consuming news on smart phones has to be done responsibly.
"I would challenge people and remind [them] that when you're using social media, make sure it's from a vetted news source, not just somebody with an opinion," Olson said.
The panelists addressed the future of the journalism industry in the open discussion.
Orozco said the next generation of journalists must be able to do a "little bit of everything" because technology has altered how news is consumed and how it is reported.
"Trust comes from being accurate," Orozco said. "I'd rather be second and right, than first and wrong."
The next event will be held Nov. 9 at the Warner Center Marriott in Woodland Hills and will feature Deputy Mayor of the city of Los Angeles for Homeland Security and Public Safety Jeff Gorell as the guest speaker.
Christian Ahn
Reporter