Show Us The Money
Every student at California Lutheran University is paying into 109 clubs and organizations on campus, whether they know it or not. It's part of a non-refundable fee the university charges and over half of it is allocated to the Associated Students of California Lutheran University Government. ASCLUG wants students to know where the money is going.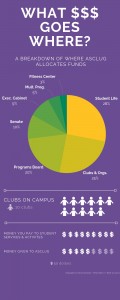 When a student pays the $482 non-refundable activities and services fee each academic year, ASCLUG allocates $262.50 and puts it toward student government activities as well as clubs and organizations and various groups on campus, President Nick Steinwender said. That adds up to about $180,000 each year.
In order for a recognized club on campus to receive funding from student government, club leadership must submit a budget request to Senate Director Alexis Ghattas to be reviewed before it can be voted on by the Senate. Allocation meetings occur every other week and the next one is Oct. 8.
Ghattas said clubs can request funding for anything from food items for meetings to accommodations for members attending conferences or hosting public speakers on campus. The Senate focuses on approving budget items that advance the mission of the club and benefit the Cal Lutheran community. The bulk of budget distribution occurs at the annual ASCLUG retreat in spring.
While not all requests are approved by the Senate, there are ways for club leadership to appeal.
"There's no cap on how many times clubs can come back and request funding for anything," Steinwender said. "If they don't get the full funding that they want… they can always come back to the next allocation meeting to get funding for something else or the same thing."
There is one caveat for requesting funding for the same club activity; resubmitted budget proposals cannot equal the exact amount previously requested. Steinwender said if clubs have a $1,000 proposal rejected, they can resubmit the same request for $999.99 or $1,000.01 to be reconsidered for funding.
In an effort to increase transparency surrounding student government, Steinwender and Ghattas introduced club liaisons this year. Each cabinet member in the Senate is assigned to about six clubs to act as the point of contact for club leadership when they have questions or requests to make from student government. 
"This was something we thought was necessary to bridge that gap between the clubs and the senators," Ghattas said.
Co-president of the Latin American Student Organization and junior Leslie Madrigal said she thinks the liaisons are a positive step toward better communication with student government. Madrigal was a cabinet member of LASO last year and said the process was not always clear when clubs had questions for the senate.
"I've also heard that, in years past, stuff was unfair," Madrigal said. "Since I've been part of LASO, I've never felt like the Senate has ever been, like, rude toward the club. But between the clubs and stuff, it can sometimes be confusing."
Ghattas said she hopes the liaisons will keep the lines of communication clear between club leadership and the student government.
"I think there haven't been any real, formal complaints to me or any of the executive cabinet," Ghattas said. "I think the clubs have a pretty good understanding of just trying to be responsible with our money and student fees because we want to be able to go up to a student and say 'Hey, these are how your student fees are being allocated,' and feel good about it."
Katherine Lippert
Reporter