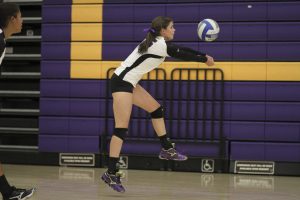 After winning a Regional title just last season the CLU volleyball team has plenty to look forward to.
The ladies look to repeat last seasons success by carefully mixing the perfect amount of age and talent in order to gain another title.
The new team, which has already won six games this season, looked very promising after going undefeated in the Cal Lu Fornia Invitation this past weekend. However, a crisp warm-up intermingled with high hopes of victory did not paint the prettiest picture Tuesday night in the Gilbert Arena.
The Regal's volleyball squad fell to NAIA's top ranked Westmont after jumping to an early 1-0 lead and ultimately falling 3-1.
The score shifted between squads a number of times, but the Regals always found themselves chasing the lead. They fell into the slow tempo of the Warrior's gameplay, which halted the Regals normally aggressive strategy.
Their solid start slowly turned into a series of mental and physical mistakes, that haunted them throughout the entire match. Head coach Kellee Roesel expressed the need for more consistent play.
"I thought the two things that we normally do really well, we didn't do well tonight and that's pass and serve," said Roesel. "This weekend it was the exact opposite and I don't really have an answer for that."
Sophomore Kylie McLogan proved to be effective, tallying up a monstrous 23 kills, while newcomers Paige Mo'okini-Oliveira, Allie Eason and Hannah Orlandi all showed signs of success.
The impressive defense by Shannon Pearson and Erika Smith kept the Regals within striking distance.
With the highly unfortunate injury to record breaking senior setter Jackie Russell, the Regal's squad needs to look deep into their lineup for solutions to fill that void. Roesel had no problem with attempting to do so Tuesday night.
"I'm feeling great about our kids," said Roesel without hesitation.
"We have a very athletic group. It obviously doesn't help us that Jackie Russell is hurt, but this weekend when it counted I had various kids step up and they've played great and that's when it's most important. I have total faith in this group that they will bring it together by playing great ball."
Senior Jackie Russell proved to be the rock for the team during her current reign as captain. After just having surgery on her newly broken left hand, Russell shared the same thoughts as her head coach.  Russell stressed that she remain the leader of this evenly balanced troop.
"I'm just going to help coach the setters that are in for me," said Russell, "and just keep making sure the team has a lot of energy and intensity, because I really want to be out there."
The Regals will follow their journey to the title to the Trinity Tournament in San Antonio, Texas Sept. 14 and 15, which will prepare them for the league opener against the La Verne Leopards.
Nicho DellaValle
Staff Writer
Published Sept. 19, 2012